5 Sydney Brunch Places to Try
Hi guys! I've been really loving brunch places as they're so photogenic, kind of healthy and who doesn't love a good poached egg? I'm going to review 5 brunch places that i've tried and hopefully this will give you guys an idea for your next brunch location.
Charlie and Franks
233 Castlereagh Street, Sydney NSW 2000
This place is literally one of my favourite brunch places in the CBD. The service is really great as they are both super friendly and attentive which is definitely a bonus and it makes me want to return. Since it's quite central to a lot of work places, there's a lot of workers that get takeaway so it's never full but there will always be people sitting down. The food is really fresh and delicious. They also do daily $10 specials from their menu and just in general, everything is really affordable. I think Charlie and Franks do brunch better than chips and burgers since I've tried a lot of their dishes and their brunch food always excels. The chips and burgers that i tried wasn't that great so I wouldn't recommend ordering their burgers. Food comes out relatively fast and if you get there early enough, TRY THEIR DONUTS (because i've always missed out T_T).
Rating:
Food ♥♥♥♥ 8.5/10
Price ♥♥♥♥ 8/10
Service ♥♥♥♥♥ 9/10
Ambience ♥♥♥♥ 8.5/10
Overall ♥♥♥♥♥ 9/10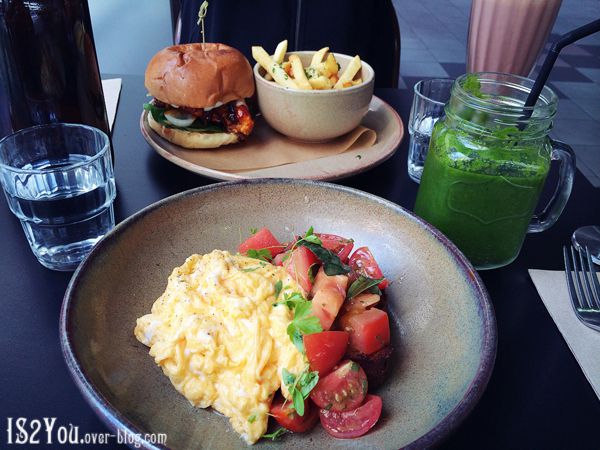 We ordered scrambled eggs, tomato over an olive loaf and Korean fried chicken burger with chips. The scrambled eggs were really nice and fluffy and just in general, a tasteful dish.The chicken burger and chips weren't bad but a little on the small size and since i like my chips really crunchy, these chips were too soft. The burger's chicken was also quite small.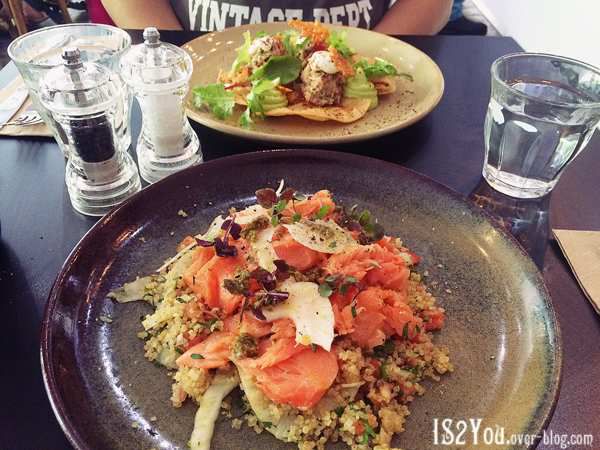 We ordered the Atlantic salmon quinoa dish and tuna nachos with avocado, cheese and a creamy sauce. The Atlantic salmon was really good but i think it was just a tad under-salted while i really enjoyed the tuna nachos but it might be a bit heavy for some people since there's so many components.
Paper Plane Cafe
Shop 5, 2 Horwood Place, Parramatta, Sydney, NSW.
The food is really affordable and they give big proportions which is so good for me since i love to eat and sometimes i don't want to spend $25+ on a good brunch meal. The cafe itself is cute and not really big. The service is not bad but nothing i'd rave about. The food is also really tasty so i'd definitely come back for the food but there's not really any parking nearby since it's at Parramatta so maybe walking there from the station would be better but it's completely up to you. I feel it's more of a local type of cafe. Definitely a cafe to check out!
Rating:
Food ♥♥♥♥ 7.5/10
Price ♥♥♥♥♥ 9.5/10
Service ♥♥♥ 7/10
Ambience ♥♥♥♥ 7.5/10
Overall ♥♥♥♥ 8/10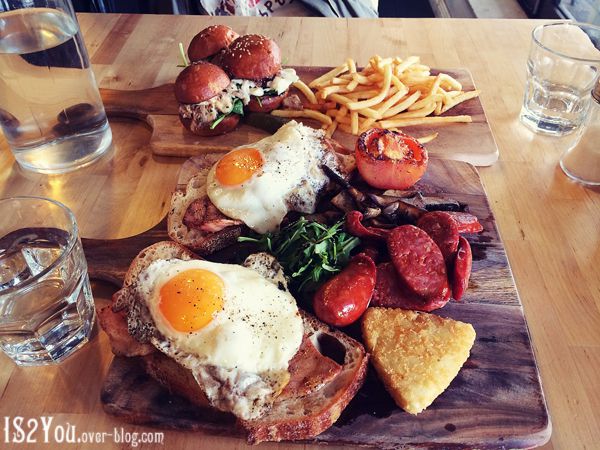 We ordered the pulled pork sliders and fries which were REALLY good. We also ordered the Big Brekkie and that was also good but it's more of something that we could cook at home.
The Grumpy Barista
110 Audley Street, Petersham, Sydney, NSW.
The real reason i came to this cafe was for the cronuts but sadly i missed out because they were all sold out. So sad T_T. The cafe itself is quite small but still cute and has a rustic feel to it. Service was pretty good and food came out relatively fast. The menu didn't have alot so i really just came for the cronuts. Food was moderately priced and tasted alright. It was nothing special or unique hence i was quite sad because they're known for their cronuts. Try it out and remember to go early for the cronuts!!
Rating:
Food ♥♥♥ 6/10
Price ♥♥♥♥ 6.5/10
Service ♥♥♥ 7.5/10
Ambience ♥♥♥♥ 7/10
Overall ♥♥♥♥ 6.5/10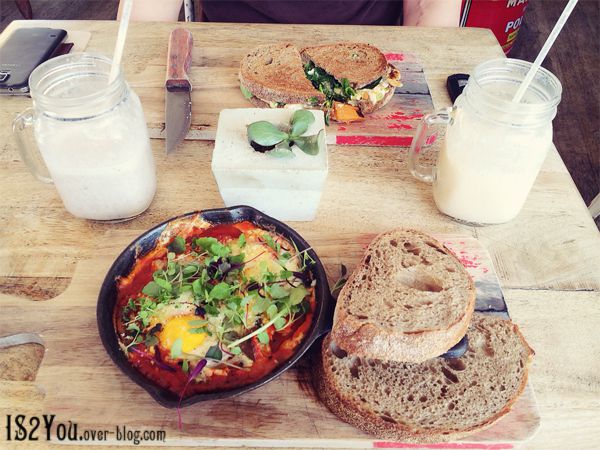 We ordered the baked eggs and Chicken sandwich. We also ordered milkshakes (I like mine had dates, chia seeds and other superfoods in it while the other one was salted caramel and peanut butter) which were pretty good.
Sadhana Kitchen
147 Enmore Rd, Enmore NSW 2042
I went to this place 3 times in 2 weeks since i kept having friends who wanted to try it. I didn't mind though since this place has GREAT vegan food. Literally so delicious and different. The cafe is quite dark and small but the food makes up for it. They also have vegan desserts like different flavoured cakes which tasted amazing however i tried two different flavours but they had a really similar texture and taste so maybe only order one of the cakes to try instead of all the flavours. They also have cocowhip which i think is like a vegan froyo made with coconut milk but i'm not completely sure. The price was on the pricier side but that's what i expected from vegan raw food. This place is a must-try and you won't be disappointed.
Rating:
Food ♥♥♥♥ 9.5/10
Price ♥♥♥ 6/10
Service ♥♥♥ 6.5/10
Ambience ♥♥♥♥ 7/10
Overall ♥♥♥♥ 8/10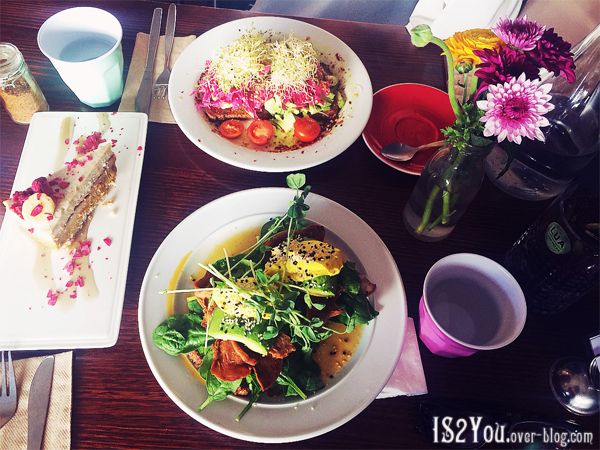 Avo on Toast (which is the purple cabbage dish) tasted really weird and i didn't like it. Avo and Mushroom benefit which is the bottom dish was pretty good. The coconut bacon was a bit hard but the hollandaise sauce was amazing. We also ordered the banana and salted white chocolate cake and this was REALLY good so you have to try it!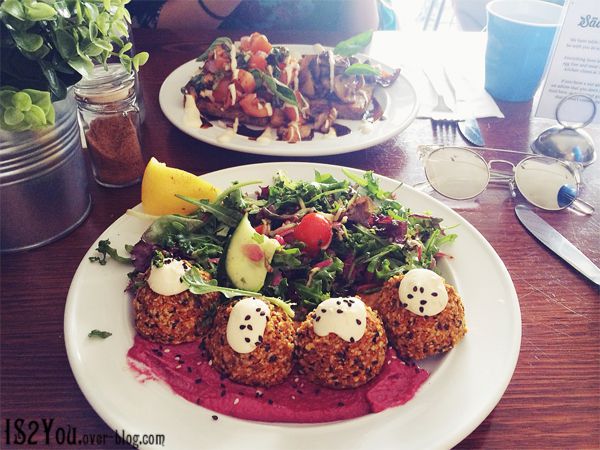 Carrot and walnut falafel plate was REALLY YUM, highly recommend ordering this! The tomato and mushroom bruschetta was so-so.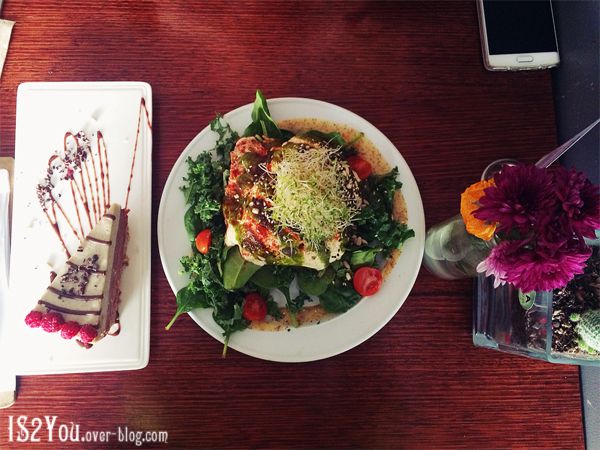 My favourite dish out of all the ones i've tried. The vegetarian lasagna. Literally a must-try. Vegan food is also really filling just as a side note. The napoleon cake was just alright.
Cafe Oratnek
4 Pitt St, Redfern NSW 2016
Big, juicy katsu sandwiches? YES PLEASE. This cafe has great service and are bursting with matcha goodness. I bought the matcha and which chocolate muffin which was quite tasty but the star of the show was the pork katsu sandwich. Omg. It was so juicy and crunchy, i was in wonderland. I'd go back just to eat the katsu sandwich because that's just how good it was. Food was reasonably priced too. The soft shell crab burger tasted good but sadly the crab was on the small side. You need to go for the katsu sandwich though.
Food ♥♥♥ 8/10
Price ♥♥♥♥ 7.5/10
Service ♥♥♥ 8/10
Ambience ♥♥♥♥ 7.5/10
Overall ♥♥♥♥ 8/10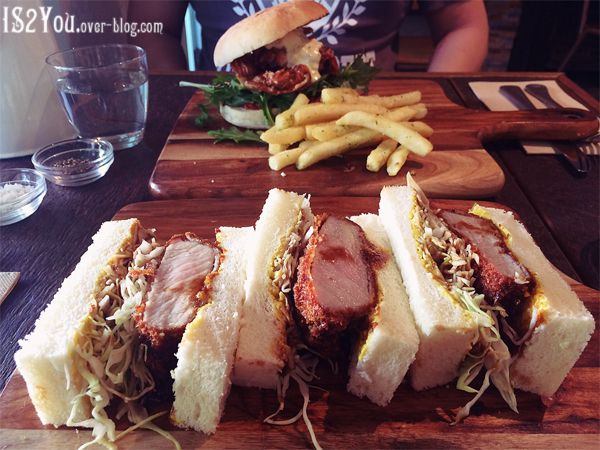 Pork katsu sandwhich= YUM YUM YUM! Soft shell crab burger and chips= Tasty but crab was a bit small and so were chip proportions. Try all the matcha things though! They have tiramisu which was sold out when i went T_T, muffins and lamingtons.
Hope my reviews helped!
Riame xx