Peripera Rouge Pang Lipsticks
Hey guys! Long time no makeup review sooooo HERE IS ONE!! Peripera Rouge Pang Lipsticks that i got from Ebay. I got three colours since i couldn't decide between the two reds so i got both. Peripera Rouge Pange Lipsticks have 8 colours in total so there isn't a huge range but all the colours are really nice so you're bound to find at least one colour that you like. Naeun from Apink endorses it as well. Let me show you.
I have RD01 Mature, RD03 Party Party, PK07 Courteous
Good Part
♥ Affordable
♥ Pigmented
♥ Super moisturising
♥ Doesn't really have a scent
Bad Part
♥ May need to re-apply after eating
♥ Transfers so be careful
Let's start the swatches! Okay this is RD01 Mature. I thought it'd be a lot darker since the packaging looks like a semi dark red lipstick however it's just like a normal red lipstick but leaning towards the blue tones.
PK07 Courteous is a nudy pink but it's more of a soft pink rather than a nude.
I couldn't decide between RD01 and RD03 so i picked both. RD03 Party Party is more of a hot pink red while Mature is more of a typical red lipstick.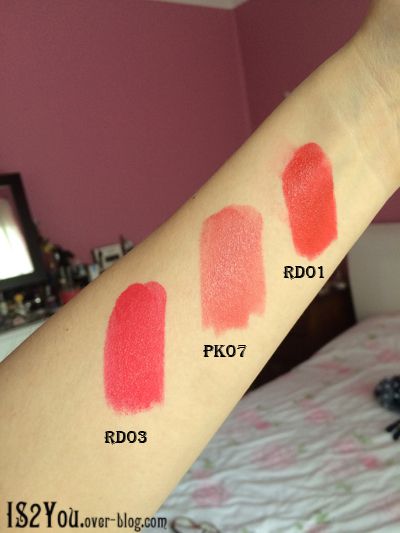 The swatches on my arm are the most accurate. The lipsticks don't look as pigmented on my lips but that's only because of the lighting. In real life, it's actually as pigmented as my arm swatches.
What I thought
Great lipstick in general. It's creamy, moisturising, pigmented and affordable. It's around $7-15 AUD depending on where you get it. There is no scent and the packaging is pretty cute. There's only 8 colours in the range so that might be a con to some people but all 8 colours are pretty so definitely check it out. I don't really use these lipsticks that often but that's only because i have so many and tend to just grab whatever i see first. The creamy texture of these lipsticks means that it'll transfer so you have to be careful. Re-applying after you eat is also recommended since creamy lipsticks tend to not last as long as normal lipsticks and mattes.
Rating: ♥♥♥♥ 4/5
Riame xx