Colourpop Super Shock Eyeshadow and Blush
Hey guys! I'm excited to review my Colourpop Super Shock eyeshadows and blushes! I have really been loving Colourpop and it has kind of become an addiction. I got two hauls within a month! Oh man... please help me. BUT I get to share my thoughts about the product with you guys and I also made a video for this so please check that out!
Good Part
♥ Unique texture
♥ Pigmented
♥ Affordable
♥ Doesn't require any makeup tools (just use fingers)
Bad Part
♥ Glitter gets everywhere
♥ Expensive international shipping
♥ Some products are darker to what is displayed on the website
I Heart This is a cool-toned silvery taupe shade with multi-colour glitter. This is definitely super bright and super glittery. I like the colour but the glitter gets EVERYWHERE so that is quite frustrating. Colourpop metallic finishes are extremely glittery. Glitter is great and all but when you apply the eyeshadow with your fingers (the best tool for colourpop eyeshadows is using fingers), the glitter just gets really messy and so does your finger. Whatever you touch will have glitter on it. You can use a synthetic flat brush for these eyeshadows but in my opinion, finger works best. Once this dries, it's rather hard to blend.
Acorn is described as a cool-toned beige with flashes of silver and gold. This is a really nice and natural shade. However this looks completely to the one on the website. The website photo shows an almost white eyeshadow so I was really shocked to see that in real life, this product is more of a soft gold/champagne kind of shade. The pearlised finish is great! Despite the fact that it looks nothing like the website photos, this is a great eyeshadow colour that everyone should try out!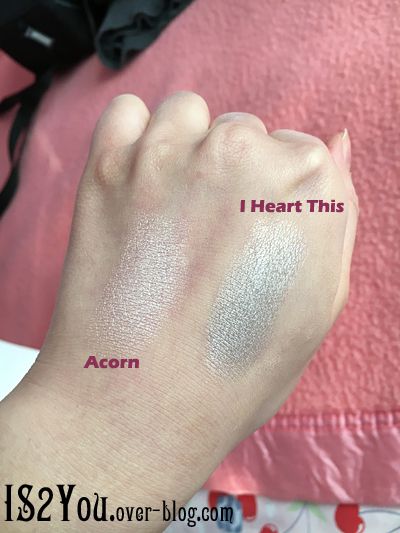 Hanky Panky is described as a soft cool-toned taupe colour. This is a lovely neutral shade that would be perfect for everyday wear. I was hoping for this eyeshadow to be more taupe and more cool-toned. I quite like the matte finish. It's still creamy like all the other finishes and it blends quite well. This is one of the finishes that can be blended with a synthetic fluffy brush.
This is a gorgeous metallic brown colour with blue, purple and silver glitters! This eyeshadow was a gift as it was their 2nd Birthday not too long ago. This is an amazing and unique eyeshadow and it makes the eyes POP when you apply this. Once again since it is a metallic finish, it is jam-packed with GLITTER! You can see the glitters really clearly in my video!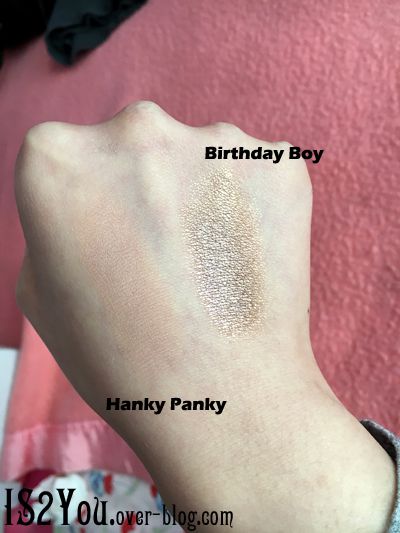 Moving on to the blushes! I got a total of 2 blushes and they are both matte finishes. Between the sheets is a lovely soft rosey pink colour that is similar to Ladyblush by MAC. The colour is the perfect rosey cheek blush that would look great on dates or days where you want to feel extra sweet and girly. The texture is soft, creamy and blendable. I use my fingers with this product but you can use a synthetic brush if you want to.
Aphrodisiac is described as a soft beige brown. This is one of their most popular blushes because it is always soft out! The blush looks so much darker compared to the colour on their website so I was a bit scared at first. Thankfully the colour looks great on the skin despite the overwhelming dark shade. It gives off a very natural blush that is perfect for everyday where you just feel like something subtle yet noticeable.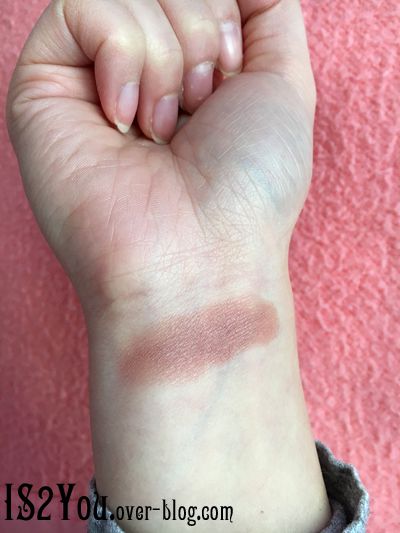 What I thought
I'm really happy with my products! Colourpop definitely is worth the hype. The products are of high quality and are very pigmented. Something I noticed is that not all the pictures on the website are true to colour. Some of the products I got were a lot darker than what was shown on the website. The eyeshadows are great but always using my fingers to apply it can be a bit tedious especially on my lazy days when i don't feel like cleaning my fingers every two seconds so that's just something to take note of. Once the metallic eyeshadows dry, they are actually quite hard to blend so you have to work quickly. I prefer using the Colourpop eyeshadows as the base and using powder eyeshadows to blend the outer corners. The blushes are great! I have nothing bad to say about them.
Rating: 4/5