3CE Skin Tone Control Primer in Pure Violet
Hey guys! Back with a review on one of my favourite winter face primers! I have combination skin but during winter, my skin doesn't blend very well with my foundations/bb creams since I have dry patches here and there on my face so using a primer really helps solve that problem. I have several primers however my go to one for winter is definitely the 3CE Skin Tone Control Primer in Pure Violet.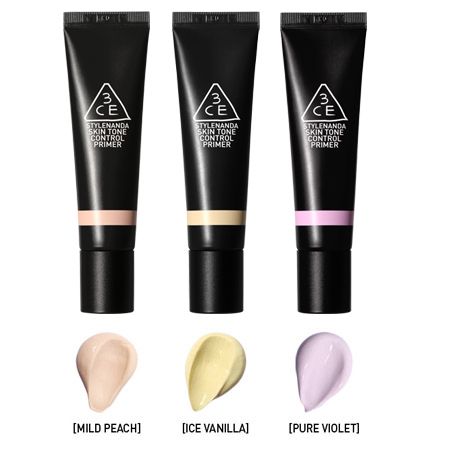 The soft violet colour brightens up dull and dark skin tones and helps control oil to make makeup last longer.
Good Part
♥ Moisturises dry patches
♥ Brightens up skin
♥ Allows foundation to go on more smoothly
Bad Part
♥ Takes some time to blend
What I thought
As you can see in the photos above, the primer definitely brightens up my skin naturally. I noticed a huge difference in terms of skin brightness when I used this product. The primer helped moisturise my dry patches and brighten up my skin so that when i applied my foundation, it looked more flawless compared to without the primer.
This primer is great for winter! In summer, I tend to use more pore mattifying primers since I tend to get more oily. My only minor issue with this product is that it takes some time to blend so if you are in a rush then you'll probably want to skip this step. I either use my fingers to blend or a sponge for this product.
In terms of oil control and longetivity, I feel that it does help to some extent but I wouldn't buy this purely for that purpose. The primer is more to provide a smooth base for foundation and to brighten the skin. Overall I am really happy with my 3CE Skin Tone Control Primer in Pure Violet and I highly recommend others to try this!
Rating: ♥♥♥♥ 4.5/5 (Noticeable brightening)
Riame xx