Beginner Macaron Making Tips
Hey guys! You might not know this but I'm a huge dessert fan and I love to cook AND bake goodies for people and myself. That's why of course I had to make macarons! This is my THIRD attempt as I have not been satisfied with all my other attempts. My first attempt tasted good but didn't look the part, it was really lumpy and not smooth. My second attempt was with the Adriana Zumbo Kit and that failed so hard, my macarons were as flat as a pancake and hard like cookies. Finally this is my third attempt so I thought I'd share with you my tips on what helped. The macarons I made were not perfect but they have improved so much from my first attempt. The recipe I used was pretty good but just a warning, the shells are super sweet. I changed the filling to a strawberry ganache.
Click HERE for the recipe and video I used for my macarons. You can google up different macaron fillings to play around with!
Helpful Tips for Beginners
♥ Count the number of folds you do and stop every now and then to check the consistency. I did around 40-50 folds BUT it changes depending on how much strength you use. If the number of folds is too little or too many like e.g 20 or 100 then you may have under/over mixed.
♥ Check the consistency frequently when you no longer see any powdered sugar during the macronage. It is said that the perfect consistency is like molten lava. Basically I've watched recipes with 'ribbon' batter and 'molten lava' batter and a lot of people have said that the 'ribbon' batter is on the bridge of over-mixing but I haven't tried to get that consistency yet so I'm not sure. BUT I opted for the 'molten lava' batter so it doesn't fold on itself like a ribbon but rather it kind of just drips off the spatula (flowing but breaks every now and then) so it is THICKER then the 'ribbon' batter (able to draw a figure 8 flow). Another way to check consistency is to watch the movement of the batter. Scoop a bit of the batter on a plate and check if it slowly moves outwards. The batter should move slowly and smooth any lumps out by itself. This way when you are piping, the little knob that your piping bag tip leaves smooths out automatically.
♥ Use templates for the macarons when you are a beginner! I got lazy so I didn't end up tracing my templates and then I got random shaped macarons that weren't equal in size so it was so much harder to match up the shells.
♥ Perfect macaron weather is sunny and dry. Macarons shells won't dry properly when it is raining or humid or both...
♥ Use a lot of gel food colouring. I used a bit since my batter looked really blue but the colour FADED so make sure it is super vibrant if you want a nice pastel finish.
♥ Use an oven with consistent heating. My oven isn't the best, it is NOT consistent so I got macarons with slightly brown edges.
♥ Make sure to dry your macaron shells completely. When you touch it, it shouldn't stick to your finger. That's why dry weather is GOOD.
♥ Bang the macaron tray to get rid of any air bubbles which may cause cracks. Bang it at least a few times just to be extra sure!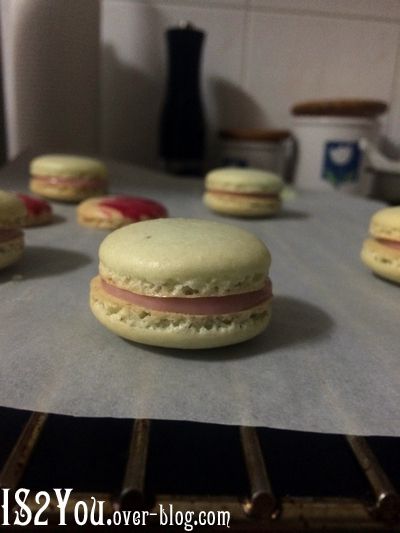 You can see the edges are slightly brown and my blue macarons turned into a super light green because the pastel blue colour faded.
Overall I'm pretty happy with my 3rd attempt macarons however next time I will try the 'ribbon' batter by mixing it a bit longer so that it can draw a figure 8 easily without breaking to see if my macarons still turn out okay. Sadly, my oven is not very consistent in heat so I don't know if I'll ever be able to make macarons without slightly brown edges -_- but oh wells.. not much I can do. For beginners, I recommend to try the 'molten lava' batter first! If you have any questions, feel free to ask me.
Riame xx