Christmas Gift Ideas for Beauty and Makeup Lovers
Hi guys! I know everyone is posting about Christmas and honestly I've never really posted any festive things so I thought I'd also give it a go. These are all christmas gift ideas for anyone that loves makeup and beauty so hope you enjoy! I have included items from a range of different prices and some personal favourites as well. All prices are in AUD. If you have any questions, please comment and I'll reply as soon as I can. I hope everyone has a Merry Christmas! ^_^
Christmas Makeup Gift Ideas Below $50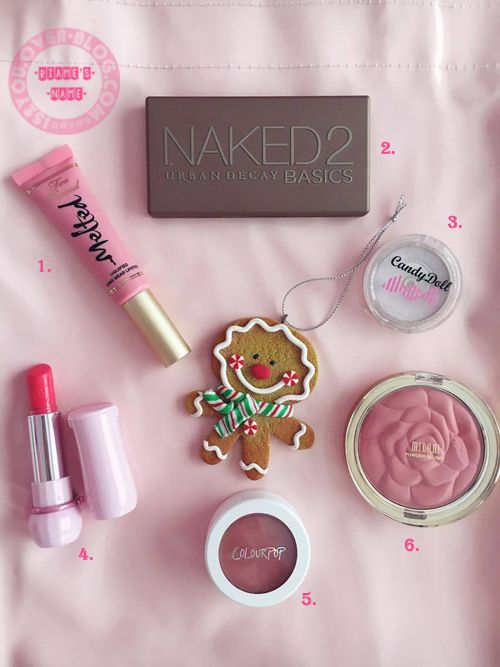 1. Too Faced Melted Liquified Long Wear Lipstick in Peony. $30. Personally I don't like this colour as it makes me look washed out but the lipstick itself is great and there's a huge range of colours to choose from.
2. Naked2 Basics Eyeshadow Palette. $47. Love this product, travel-friendly and multi-functional!
3. Candy Doll Cheek Color Highlighter in Marshmellow Violet. $27. Super natural highlighter with huge packaging, perfect stocking filler.
4. Etude House Blooming Lips Talk Lipstick in RD304. $12. Super affordable and cutest packaging that makes you feel like a princess.
5. Colourpop Blush in Between the Sheets. $11. Another great stocking filler and this shade is amazing for all occasions.
6. Milani Rose Blush in Tea Rose. $18. The product is so beautiful as it's the shape of a rose and it's a perfect everyday blush.
Christmas Makeup Gift Ideas Below $100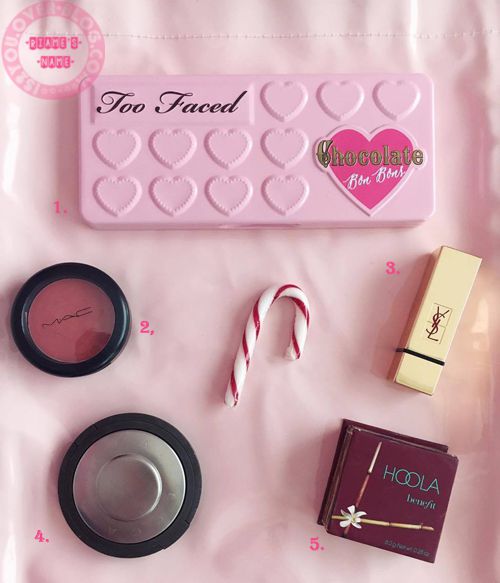 1. Too Faced Chocolate Bon Bons Palette. $70. Cute packaging and love the smell of cocoa in this palette. The colours are girly but completely wearable for everyday or special occasions. Too Faced also has Holiday Limited Edition makeup so I recommend checking that out too!
2. MAC Blush. $41. Honestly if you have the money to splurge on someone, MAC blushes are a stable for all makeup lovers.
3. YSL Rouge Pur Couture Lipstick. $55. The packaging is so luxurious and this product glides on so smoothly as well. Also perfect for mums.
4. BECCA X Jaclyn Hill Shimmering Skin Perfector in Champagne Pop. $62. Another item that is perfect for people out there that like splurging for their loved ones and friends. Highly pigmented goodness in a compact.
5. Benefit Hoola Bronzer. $51. Highly pigmented bronzer that is a favourite among all makeup lovers.
Christmas Beauty Gift Items Below $30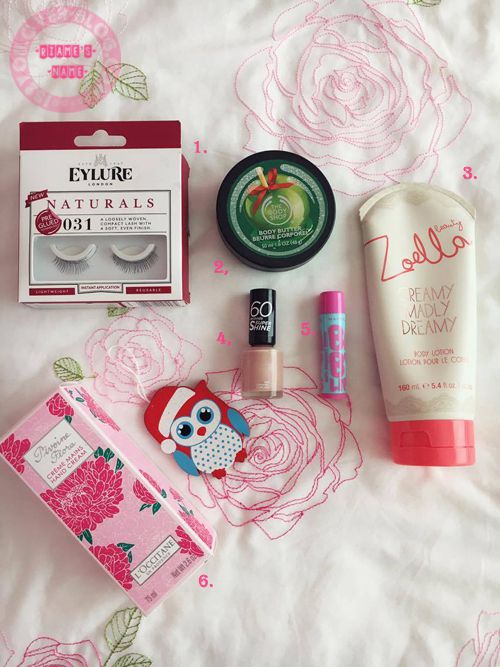 1. Eylure Natural Lashes in 031. $13. Natural lashes, perfect for everyday and a wonderful stocking filler!
2. The Body Shop Mini Body Butter in Toffee Apple. $8.This usually comes in a packet of 3 so you can buy a packet of 3 for $24 and give it to 3 different friends. The holiday scents also change every year so visit the store to see what they have this year.
3. Zoella Creamy Madly Dreamy Body Lotion. Around $14. Affordable body lotion that does a good job at moisturising skin.
4. Rimmel 60 Seconds Super Shine Nail Polish. $5. There's a huge range of colours for this nail polish and I think the quality is pretty good for the price you pay.
5. Maybelline Baby Lips in Anti-oxidant Berry. $4. Perfect stocking filler and all girls need lip balm so why not. This smells so yummy and it actually works.
6. L'occitane Hand Cream. $29. I love L'occitane hand creams as they smell freaking amazing and they do a good job at moisturising my hands but the product is definitely more luxurious so I'd only buy it as a gift for others rather than myself.
Christmas Beauty Gift Items Below $100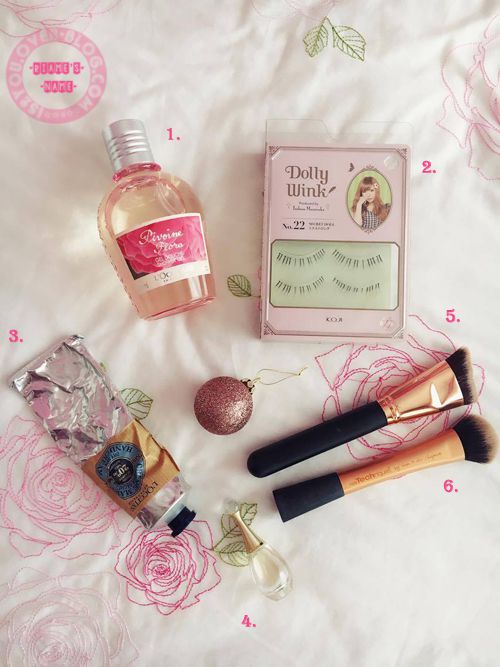 1. L'occitane Pivoine Flora Shower Gel. $29. Personally I don't go out to buy fancy shower gels because I use affordable supermarket brands but if I get it as a present, I'd definitely use it.
2. Dolly Wink Eyelashes in No. 22. $23. Very natural eyelashes that are easy to use and you get two pairs instead of one.
3. L'occitane Shea Hand Cream. $42. I would recommend this for more mature people as they would appreciate the moisturising qualities of this product with the simple packaging and minimal scent.
4. Dior J'adore Voile de Parfum 50ml. $99. This is the cutest, smallest little perfume bottle you'll ever see and I think anyone would LOVE to receive this.
5. Morphe Rose Gold Curved Contour Brush R9. $18. Rose gold? Tick. Firm but soft bristles? Tick. Curved contouring brush? Tick.
6. Real Techniques Expert Face Brush. $23. High quality brush that is great for contouring, bronzer, blush or foundation.
Christmas Gift Ideas I Recommend for Asian Makeup Lovers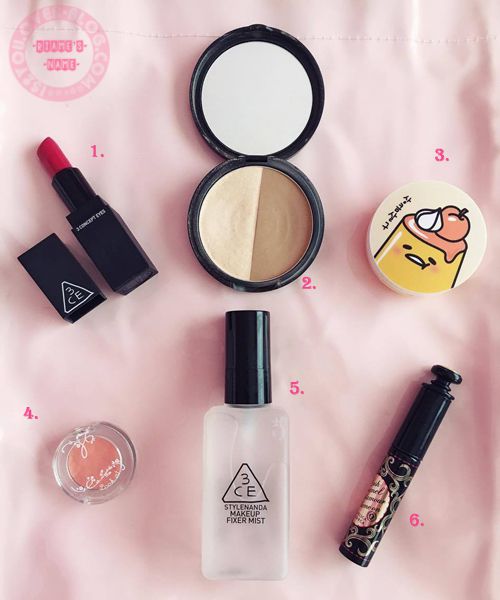 1. 3CE Dangerous Matte Lipstick in Hypnotic. $27. My all-time favourite matte lipstick. The colour is a gorgeous raspberry red and the formula is long-wearing and amazing.
2. 3CE Magic Touch Face Maker in Beige. $19. Pigmented light gold highlighter and a very natural contour shade that is perfect for people that love lighter makeup looks.
3. Holika Holika Lazy & Joy Jelly Blusher in Apricot Jelly. $14. Super cute packaging for Gudetama lovers. The product itself smells yummy and it's a wonderful pastel orange shade.
4. Etude House Look At My Eyes Eyeshadows. $6. Perfect stocking filler! Although these eyeshadows may not be the most pigmented out there, they give off delicate pigmentation and are buildable.
5. 3CE Makeup Fixer Mist. $24. This product is amazing. It makes my makeup stay on all day without separating and it is multi-functional! It can be used as a primer, as a face mist and as a setting spray.
6. Majolica Majorca Lash Enamel Glamour Volume On. $12. This mascara has cute packaging and is perfect for bottom lashes. It lengthens the lashes noticeably well but the product takes awhile to dry.
Christmas Gift Ideas I Recommend for Western Makeup Lovers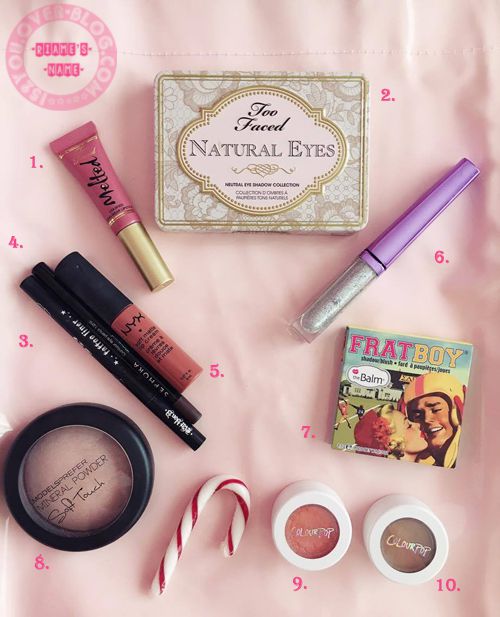 1. Too Faced Melted Liquified Long Wear Lipstick in Chihuahua. $30. My favourite Too Faced Melted lipstick! Such a beautiful nude pink shade.
2. Too Faced Natural Eyes Palette. $52. Perfect palette with everything you could need. There's both shimmers, mattes, dark colours and light colours.
3. Kat Von D Tattoo Liner in Trooper. $28. Great black eyeliner that is long-wearing, waterproof and mostly doesn't budge.
4. Sephora 12hr Contour Eye Pencil in Tiramisu. $9. For the price you pay, this long-wearing brown pencil liner is as good as you can get. It stays on for the whole day mostly without smudging so I highly recommend this.
5. NYX Soft Matte Lip Cream in Cannes. $13. This isn't drying at all and it is really pigmented. Only downside is that it isn't long-lasting but you can always re-apply.
6. LA Splash Glitter Eyeliner. $12. Perfect for special occasions and for the inner corners of the eyes.
7. The Balm Frat Boy Blush. $28. Perfect peachy blush.
8. Models Prefer Mineral Powder Soft Touch in Soft Focus. $17. Love Hourglass Ambient Lighting Powders? This is a great dupe and alternative to that and it makes your face glow.
9. Colourpop Eyeshadow in Cheeky. $7. Everyone loves Colourpop! This is a bright coral shade perfect for your cheeks or your eyelids.
10. Colourpop Eyeshadow in Hanky Panky. $7.
Okay that took SO LONG to write but I'm glad I did it. I hope this helped at least one person.
Riame xx