Dolly Wink Eyeliner and 3CE Creamy Waterproof Eyeliner
Hey guys! Got a long review for you guys today! I really want to film a video before i start uni.... but i'm not sure if i'll have time. BUT! I will make sure to film a video...soon...maybe...in a few weeks? Anyways my review today is both on waterproof eyeliners by two popular makeup brands. Enjoy!
sdssd
Review: Dolly Wink Brown Pencil Eyeliner
sds
sds
sds
Good Part:
sds
♡ Product gets on bottom lid, has abit of fall out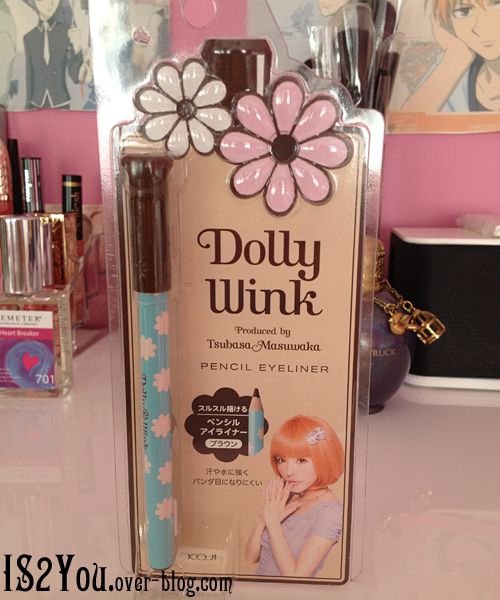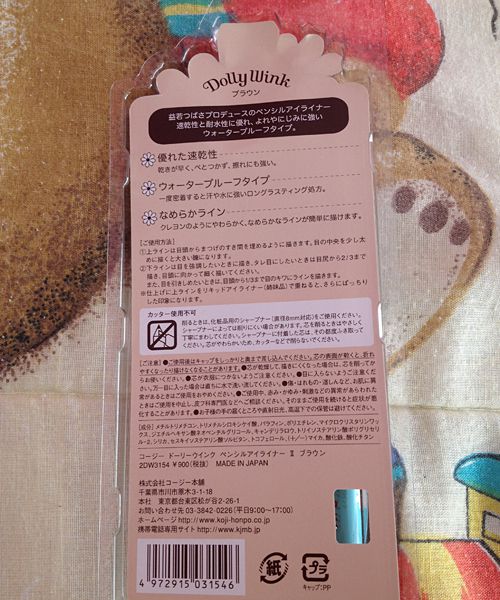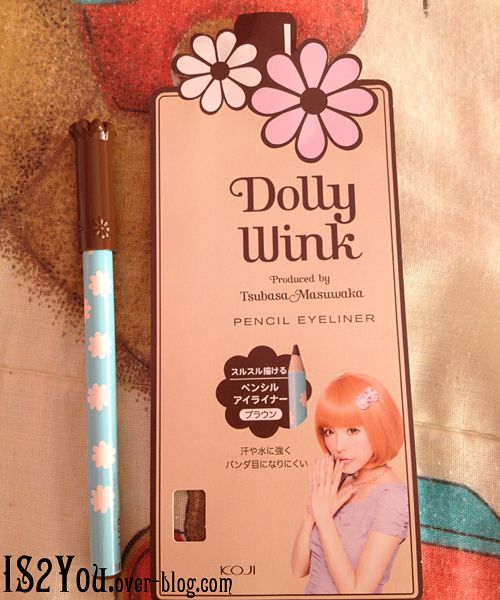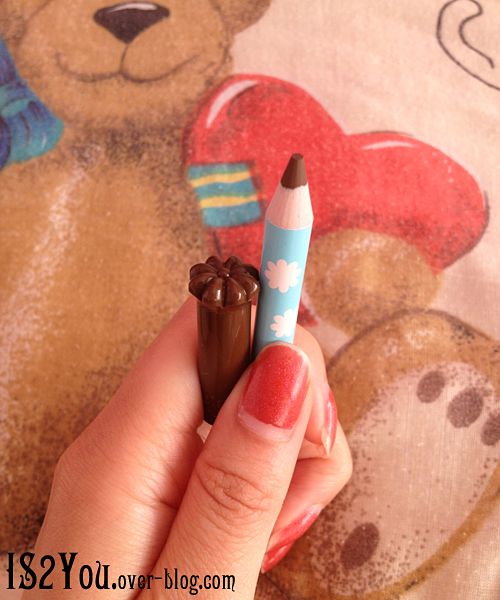 Overall:
-Pigmentation

9/10 ♥ ♥ ♥ ♥ Very pigmented. It comes out as a creamy dark brown colour. Basically the same colour as shown on the pencil.
-Long-lasting

8/10 ♥ ♥ ♥ ♥ It's long lasting if you put a primer beforehand, otherwise if your eyelids get oily like mine do, it'll smudge. But usually this eyeliner lasts all day long for me.
-Waterproof

7/10 ♥ ♥ ♥ Yes, this is waterproof but not oil proof. I have one eye that waters alot and usually it kind of washes away the eyeliner so i have to re-apply it. So it's waterproof but... not THAT great.
-Smudge proof

6/10 ♥ ♥ ♥ The one thing i don't like about this eyeliner is that it smudges. It will smude throughout the day and it will 'fall' down so sometimes it'll make you look like a panda HOWEVER if you wear a primer, it's usually not that bad. If this eyeliner was smudge proof, it'd be perfect since it has all the qualities a good eyeliner should have.
s

Overall:

8.5/10 ♥ ♥ ♥ ♥ Overall a good eyeliner despite the fact that it smudges. I think because it's quite 'creamy' the formula will eventually begin to fall down. It actually kind of melts into your skin/eyelid. When i apply the eyeliner, i don't like how there are fall outs so i always need to clean the bottom of my eyes with a cotton tip. Although this eyeliner does smudge, it is a pencil one so i can't really blame it for smudging. I have already finished 2 of these and i'm onto my third one, it's my everyday eyeliner and i use the product up sooo fast. I recommend trying it out!
Review:
Stylenanda 3CE Creamy Waterproof Eyeliner in Les Miserables #8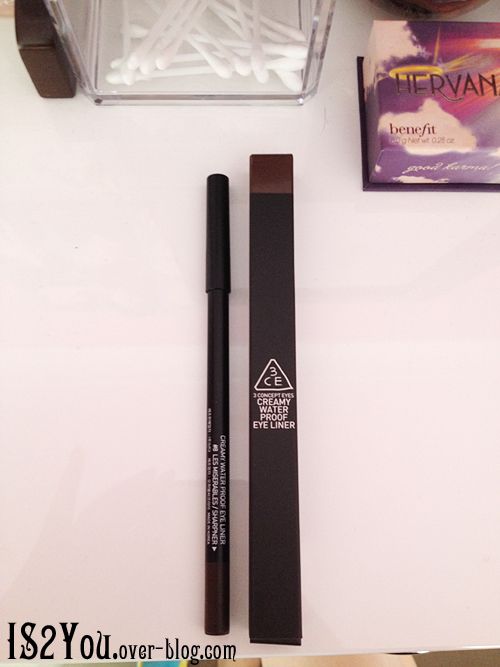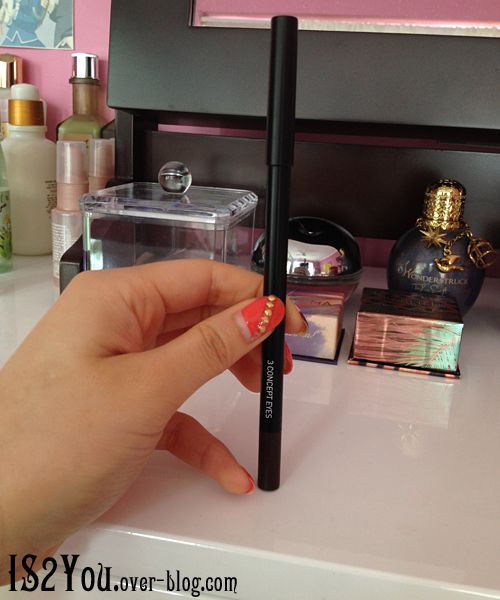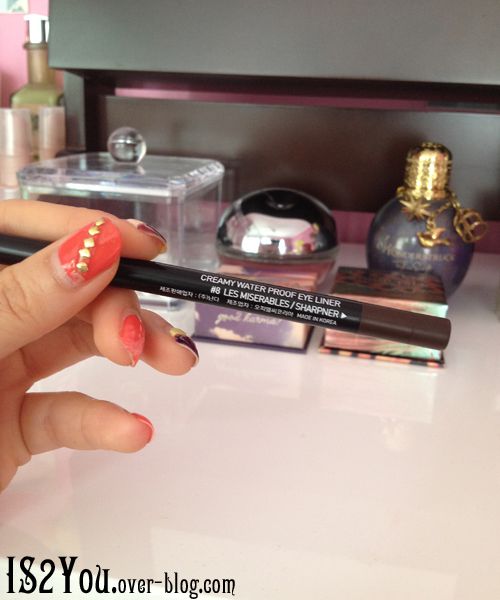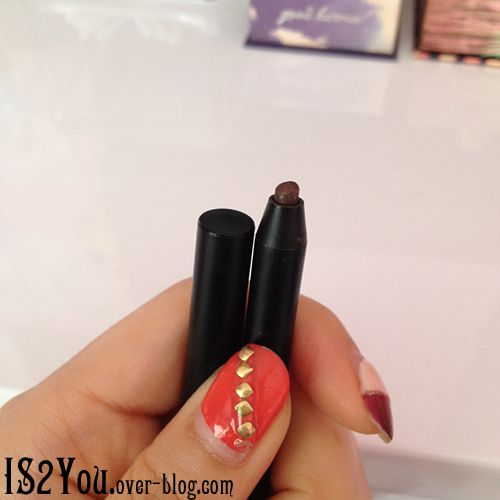 Overall:
-Pigmentation

8/10 ♥ ♥ ♥ ♥ This is quite pigmented but since it isn't very creamy, it doesn't go on smoothly...so basically you need to press slightly harder to apply this eyeliner. It's really good for the bottom eyelid though! The corners of my eyes are slightly sensitive so i don't like to apply too much pressure on that area but i can still use this eyeliner for my top eyelids.
-Long-lasting

9/10 ♥ ♥ ♥ ♥ Very long lasting...this stuff doesn't budge and it lasts the WHOLE day.
-Waterproof

9/10 ♥ ♥ ♥
♥
Yes very waterproof. Very very waterproof.
-Smudge proof

9/10 ♥ ♥ ♥
♥
I thought all pencil eyeliners smudged until i met this fellow. This eyeliner is basically smudge proof since once applied, it just stays on your skin until you take it off. I think if your eyelids were super oily, it might smudge abit but still wouldn't make you look like a panda.
s

Overall:

9/10 ♥ ♥ ♥ ♥
♥
This eyeliner has tiny gold flecks in it. Although this eyeliner has a higher rating than Dolly Wink, i use the Dolly Wink more since it is my everyday eyeliner. This eyeliner is more for my bottom eyelids so i don't use alot of this product. It's great.... this is the perfect eyeliner however the formula is as i mentioned above, not that creamy so you need to apply abit of pressure on your eyelids so people with sensitive eyelids would have a hard time. Sometimes it can hurt alittle but once you get it on... it won't come off until you use makeup remover.
COMPARISON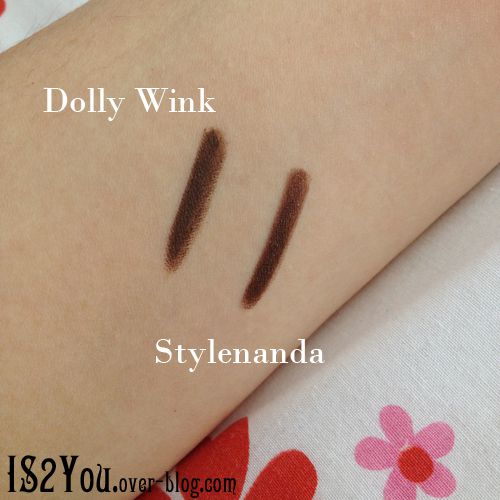 Dolly Wink is more pigmented as seen above. Stylenanda has gold specks in the brown.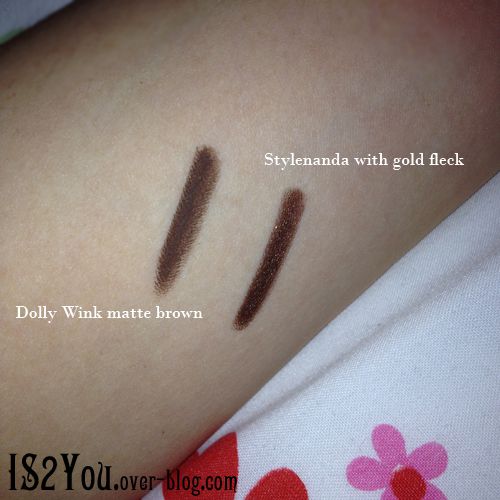 With flash you can see the gold specks in 3CE Eyeliner. The Dolly Wink eyeliner is a matte brown and it's a darker shade compared to Stylenanda 3CE.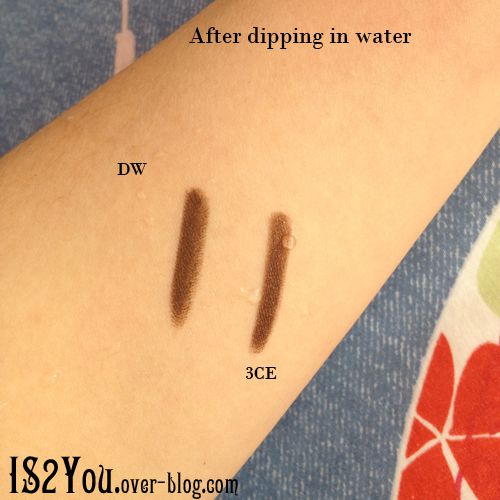 Both waterproof as shown above.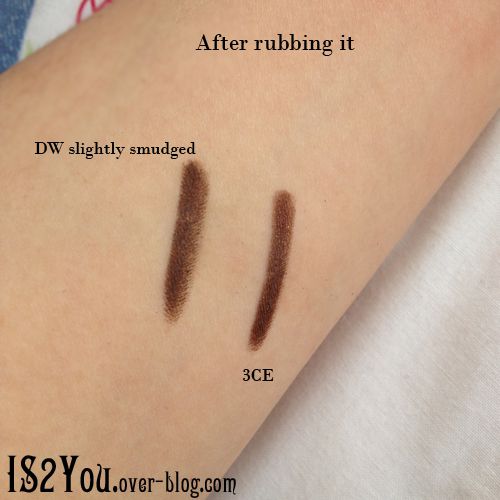 After rubbing it hard, the Dolly Wink is slightly smudged while the 3CE hardly budged.