Frank Coffee Scrub Coconut & Grapeseed
Hey guys! I guess i was feeling down today... and it was so awkward having a red nose and eyes in public... everyone was staring at me... but i didn't care since when your feeling down.. no one has time to worry about their makeup :P
I've missed blogging though... doing reviews and also just sharing how i'm feeling even though no one really reads it. But it's for me i guess... so i can always look back and reflect. Today was just a day where i eventually broke down and decided that sleeping in my friend's bed was just more comforting than sleeping in my own. At least there were a pair of ears to listen. Today's review is the infamous FRANK SCRUB.
Review: Frank Coffee Scrub in Coconut & Grapeseed
(The description is from the website http://au.frankbody.com/collections/all)
i'll target cellulite, stretch marks, psoriasis, varicose veins, eczema and acne with roasted and ground robusta coffee beans.
then i'll moisturise and tone your skin with grapeseed oil, and use coconut oil to hydrate your skin and tend to any imperfections. i'll take coconut flakes, brown sugar, jojoba beads & sea salt and gently smooth your lumps and bumps, and use vitamins & minerals to work wonders from the outside in.
sds
Good Part:
♥ Makes the skin soft and smooth
♥ Smells nice (like coffee and coconut)
sds
♡ Usually only used for warm days (way too cold in winter to stand around naked in the shower without the water)
♡ Has an expiry date of a month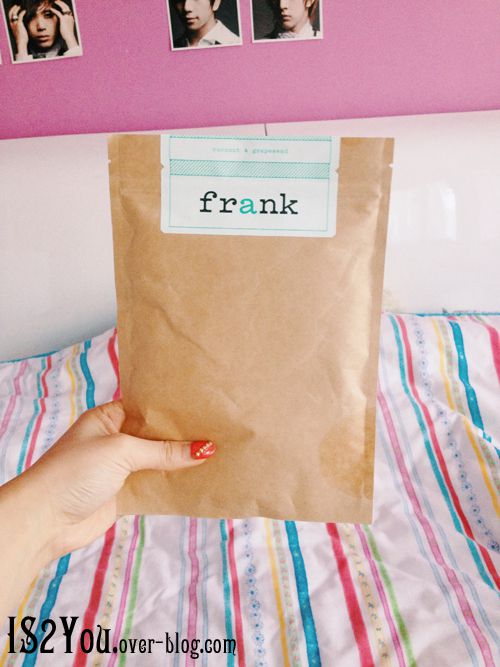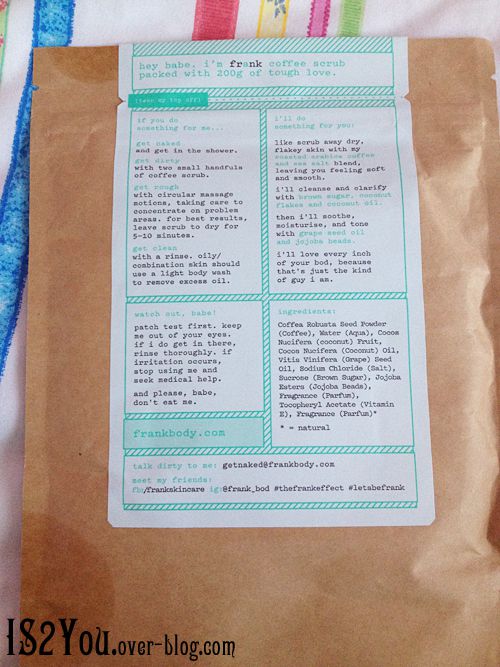 Overall:
-Does it work?

9/10 ♥ ♥ ♥ ♥ Yesss! It definitely works. It made my skin feel so soft and smooth afterwards and my skin just felt much better in general.
-Is it worth it?

8/10 ♥ ♥ ♥ ♥ It is a little pricey for a scrub that is just basically grinded coffee beans with other ingredients but i mean it works so i think it is worth it. Try maybe the Original to begin with first.
-When should i use it?

In Summer and Spring! Some people would still use it in Autumn and Winter but my bathroom is freezingg even after i take a shower so i really can't be standing in the shower for 10 mins without water. It gets a bit messy but as long as you wash it off... it won't stain your bathroom tiles.
-How often should i use it?

I think once a week is good enough however you can use it several times a week if your skin needs it. I hear you can also use it on your face but that is only for those without sensitive skin.
s

Overall:

8.5/10 ♥ ♥ ♥ ♥ Great product! I'll be trying the Original one next time but it's Winter at the moment soo i'll probably just buy it in Spring. It's great for people with uneven skin, bumpy skin, rough skin and just problematic skin that needs a good scrub! Don't worry, you won't smell like coffee too much after the shower but maybe there will still be a light fragrant but it's hardly noticeably.