I had the tingling feeling to blog even with 5 assessments due next week! I won't blog for long because i have no time but this post will just be a quick update on my recent Sasa haul that i got. The Semester is nearly ending so i'm buried in work. I didn't buy much for my May Sasa haul since i didn't really need anything new however i was running out of masks so i got two this time.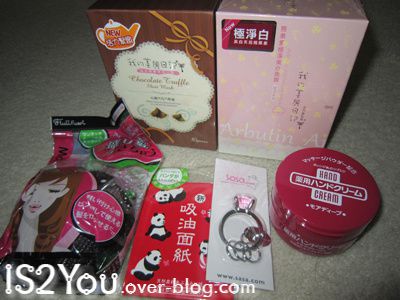 What i bought:
-My Beauty Diary Chocolate Truffle Mask
-My Beauty Diary Arbutin Whitening Mask
-Noble Hair Base (2 pieces)
-Shiseido Hand Cream
-Katani Oil Blotting Paper
-Free Ring keyring
I'll be reviewing the products probably in July since that's when my holidays are :]. I thought the keyring was an actual ring when i saw it online and it also said Clear Acrylic Solitaire Diamond Ring so i thought it'd be cute but when it arrived, i was shocked to find that it was infact a keyring...please beware if you choose this as your free sample! It's still pretty though.
Riame xx