Missha Pure Source Facial Masks
BAP IS BACK. Zelo's fake tattoos look good except he still looks like a baby to me ^^ Maybe it's the lack of arm muscle but i don't mind :]
I recently ordered from
www.yesstyle.com.au
and hopefully it'll come in the mail soon. I don't really buy clothes from online but i decided to give it a try. If everything turns out well, i may buy things again. This post will be about my Missha face masks that i got in Korea. The good thing about the masks is that there is a huge variety that have single packaging so you can pick the ones you want, it is also under $2 per mask! I bought 5 but two were for my mum and i ended up giving the 3rd one to my mum as well because it was for 'anti-aging' purposes.
Review
:
Missha Pure Source Sheet Mask in Green Tea, Pearl and Pomegranate
Aloe - soothes and moisturise.
Tea Tree - makes your troubled skin fresh and clear.
Pomegranate - vitalize and firm dull and aged skin.
Lemon - Open pores, clear sebum and softens.
Green Tea - Brightens dull skin tone.
Honey - Provides abundant moisture to create radiating, smooth skin.
Others include: Caviar, Olive and Sea Kelp.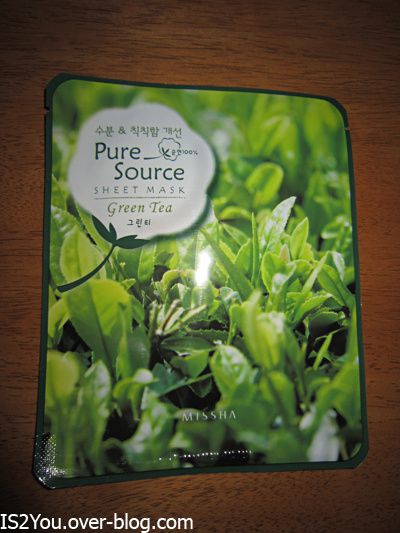 Missha Pure Source Green Tea Facial Mask invigorates dull-looking skin, helps to clear and lighten skin blemishes, prmotes a brighter and younger-looking complexion, and leaves skin the excellent protection of the strong antioxidants and other nutrients of Green Tea. It contains the pure extracts of the finest quality unfermented leaves of the Camella sinensis, or Green Tea.
♥ Skin felt soft afterwards
♥ Faint pleasant tea smell
♥ Not too wet
♡ Huge mask, didn't fit face properly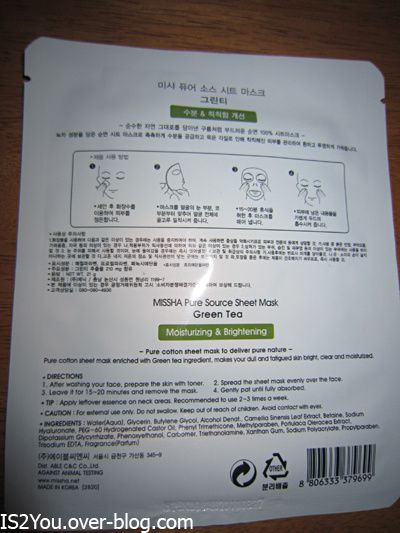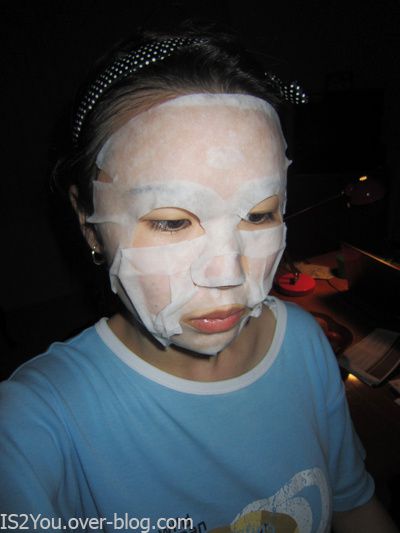 The mask makes me look really weird since it's so big in some areas.
This mask was the best one out of the two i tried. It made my skin feel soft after using it and it was really moisturising. The scent is also quite nice since it's like a faint green tea fragrance. I'm not entirely sure if this mask really brightened my face but it definitely moisturised it and made it soft. However the shape of it is really unattractive and big! It doesn't fit on my face properly so i have to fold it in some areas. It's also not too wet which i like since i find My Beauty Diary masks abit too watery but they are still my favourite brand. Overall a good mask and i'd buy it again.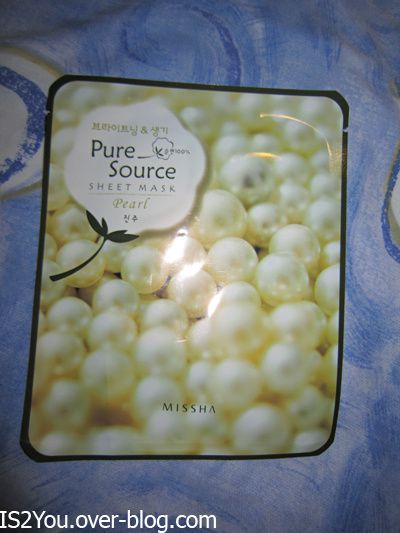 Missha Pure Source Pearl Facial Mask contains the finest White Pearl Powder, which provides dynamic protection against skin aging by gently detoxifying, exfoliating, rejuvenating, and nourishing the skin, thus brining out the skin's white, flawless, and sheer radiance.
♥ Pretty packaging
♥ Not too wet
♡ Felt sticky
♡ Didn't really see any brightness results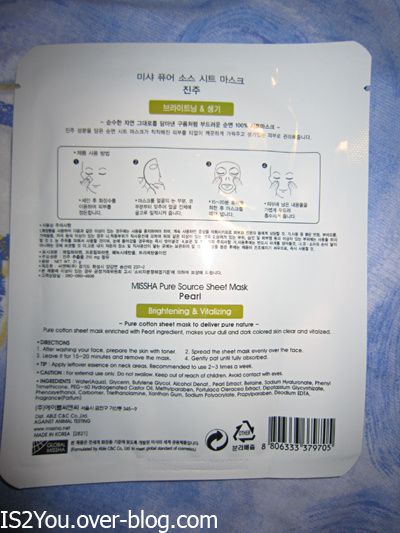 Honestly, i didn't really like this mask. The packaging was really pretty so i had expectations for this mask. It really didn't do much. My face just felt sticky after removing the mask and it looked the exact same as before. It smells like what face creams usually smell like. Nothing special about this mask but maybe that's just me, the results may vary on different people.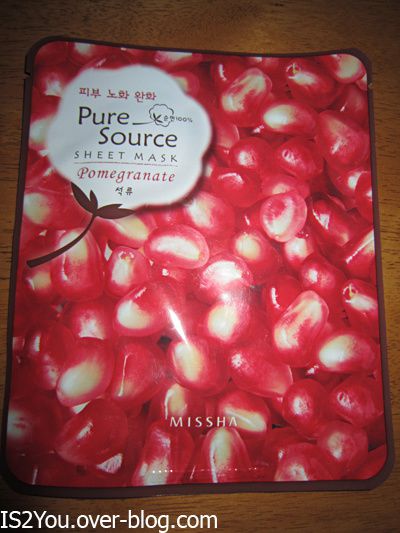 Missha Pure Source Pomegranate Facial Mask hels your skin to defy premature aging and maintain a healthy complexion with its highly-concentrated essences that contain the natural extracts of Pomegranate, which offers an abundant supply of nutrients and natural antioxidants.
♥ Yum packaging
♥ Not too wet
♥ AMAZING sweet smell
♥ Tightening
♡ May need to use frequently to see results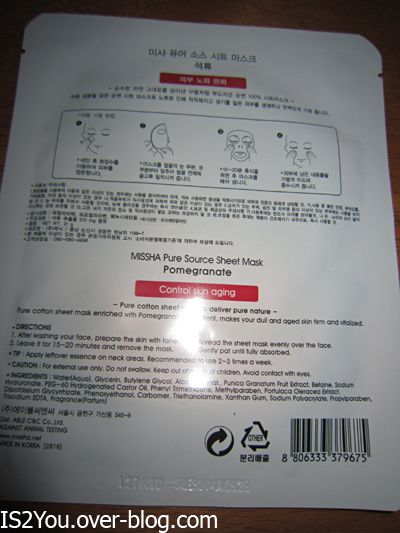 My mum used this one and told me what she thought of the mask.
This mask had an AMAZING sweet pomegranate smell. When my mum was using it, i kept sniffing her face since it was so nice :/ I think usually for anti aging masks, it takes awhile to see results because wrinkles don't go away/improve after 1 day but what i can say about this mask is that it tightens your face.
The Missha masks overall were okay but their makeup is alot better. My Beauty Diary is still the best facial mask brand that i've used so far. Speaking of that, i have one on my face right now :] I'll be reviewing the Bulgarian White Rose one in the future.
Riame xx