Hello hello :]]
Just finished using my last mask so i can review them all
now! :D
Review: My Beauty Diary Masks (Assorted)
What is it? They are facial masks originated from Taiwan
that come in cute packaging and interesting ingredients
that your skin will love! Oh and i forgot to mention, they
also are affordable~!
The ones i purchased from www.ebay.com were:
-Aloe
-Black Pearl
-Pearl Powder
-Strawberry Yoghurt
-Natto
-Apple Polyphenol
-Japanese Cherry Blossom
-FaceQ Grape Seed Green Tea
-Face Q Ocean Aloe
-Face Q Red Pomegranate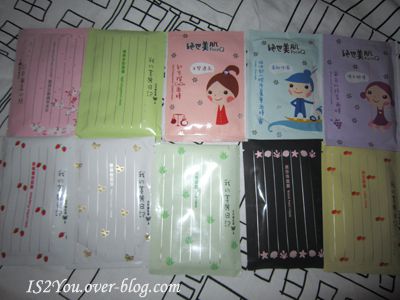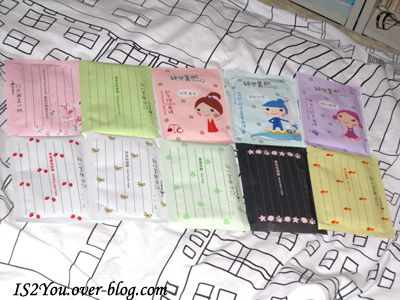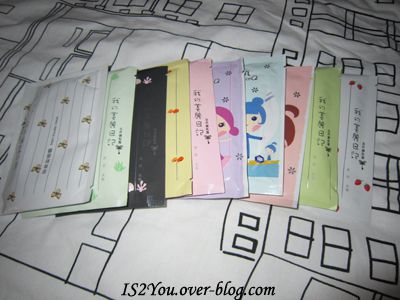 Black Pearl Mask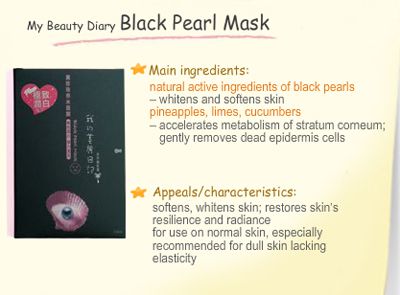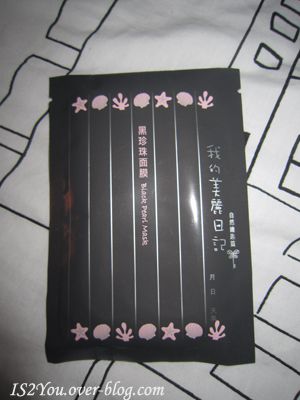 Overall: 3/5
-Can't really describe the smell but it was nice
-Felt abit of burning when on my face
-Cooled my face (cold sensation)
-Made skin firm and smooth
Aloe Mask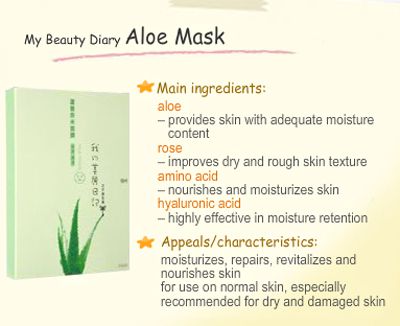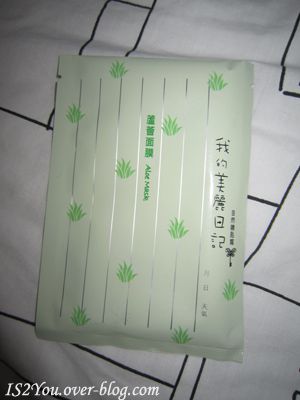 Overall: 3/5
-Had a subtle smell of aloe vera
-After taking it off, my face was slightly itchy
-Also felt like it was splashed with ice water (very cooling)
-Skin felt smooth
Pearl Powder Mask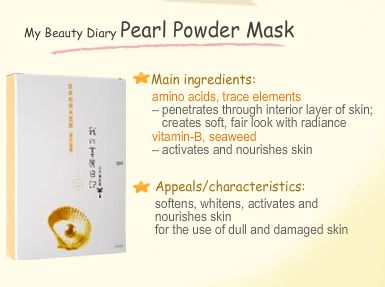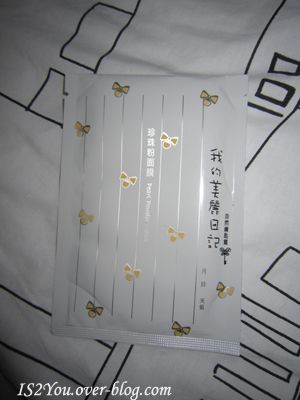 Overall: 3.5/5
-Smelt like moisturising cream
-Made skin smooth and cool
-Slightly itchy when on the face
-Skin also felt abit dry afterwards
Apple Polyphenol Mask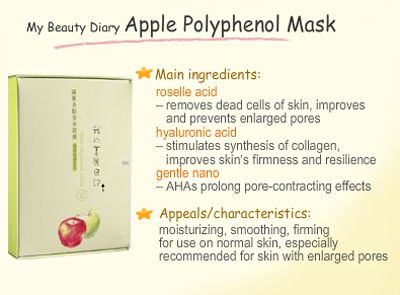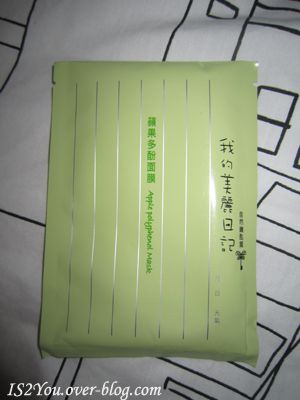 Overall: 4.5/5
-Smelt like apple juice and also slightly of alcohol
-Made skin really soft
-No side effects like itchiness or burning
Japanese Cherry Blossom Mask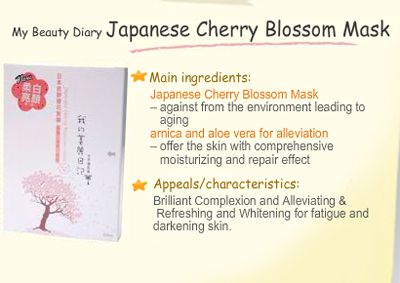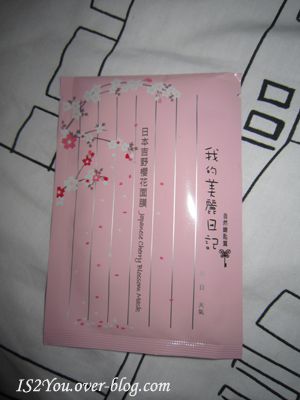 Overall: 3/5
-I've never known what cherry blossoms smelt like but wow
this mask spelt good! Definitely what i imagined cherry blossoms
to smell like.
-Very soothing and cool when applied to the face
-Afterwards face felt really hot internally but very cool on the outside
-Made skin feel firm and elastic
Natto Mask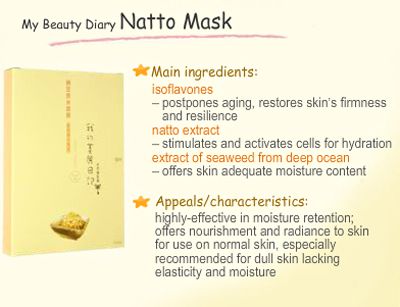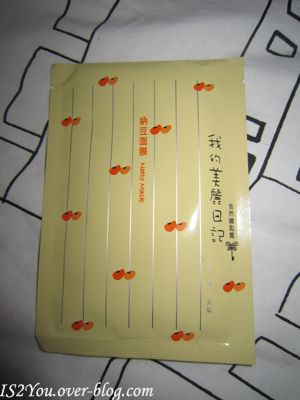 Overall: 2.5/5
-I gave this one for my mum to use
-Couldn't remember the smell
-One word~ Sticky.
Strawberry Yogurt Mask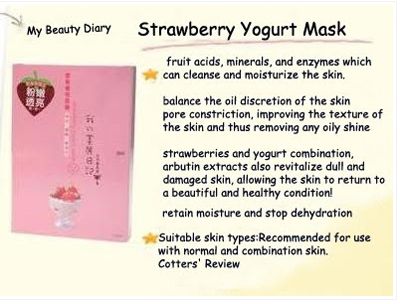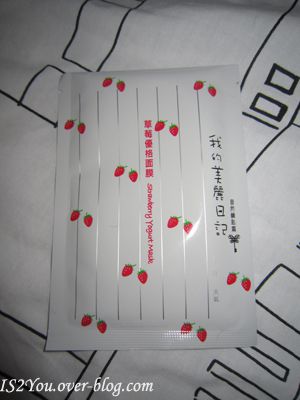 Overall: 5/5
-This one smelt so good! Although the fragrance was light,
strawberry yogurt scents filled my nose
-My favourite one :]]
-Ohhh yummy~~
-Afterwards skin felt super soft and smooth
FaceQ Ocean Aloe Mask
What it does:
-Moisurising
-Hydrating
-High efficiency in locking water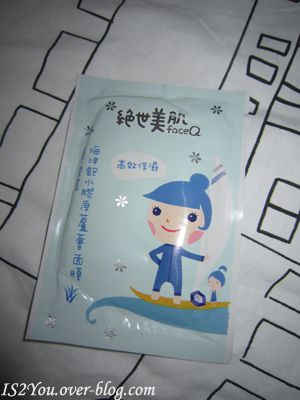 Overall: 4/5
-Nice ocean smell, like a breeze; very refreshing scent
-Made skin soft and smooth
-Got alittle itchy towards the end but not too bad
FaceQ Grape seed and Green tea Mask
What it does:
-Whitening and brightening
-Moisturising
-Makes skin more elastic
-Anti oxidant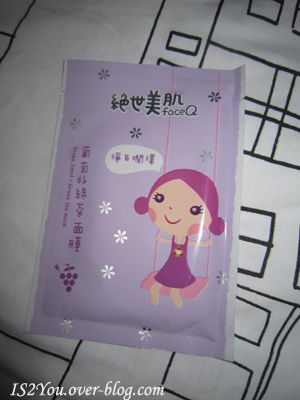 Overall: N/A
-I had to throw this one away because i suspected it was
fake~ Apparently the rip dent is suppose to be 1cm away from
the top and the ones that look 1.5cm are fakes. I compared
it to the rest of my masks and the rip dent was definitely lower
and around 1.5cm. Make sure to check if your masks are fake
but even if we are warned, how are we suppose to know what
sites sell real ones and what sites sell fake ones. That's the
problem!
Things to look out for when they are fake:
-1.5cm rip dent
-the serial number behind the packaging does not have any letters
but instead only numbers
- There isn't a watermark of the serial number in front of the packaging
(There should be an engraved serial number at the bottom of the package)
-Check this website for more info!
http://www.luuux.com/health-beauty/how-spot-fake-my-beauty-diary-masks
FaceQ Red Pomegranate
What it does:
-Oil control
-Regenerating
-Whitening and brightening
-Lightening of spots and fine lines
-Anti oxidant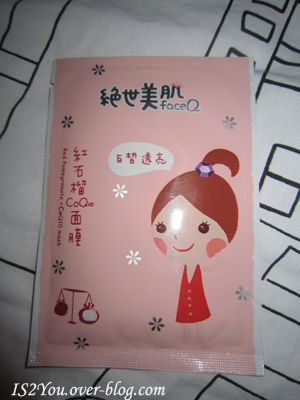 Overall: 4.5/5
-Loved it!
-Smelt slightly of pomegranates
-Made skin silky and smooth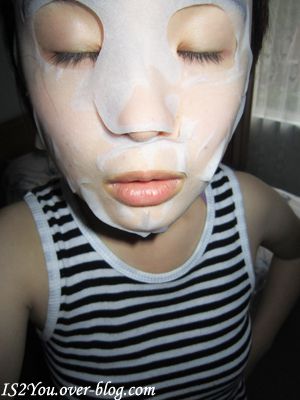 Hahaha i look so funny.... >_>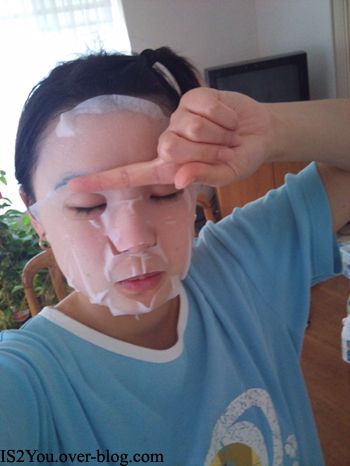 Hope these reviews helped!
Riame xx