Hi guys! I said I'd post up a review of where i ate dinner with my friends on Valentine's Day, here it is~ Hope you enjoy! Also just to let you know, I have more Missha reviews coming up soon :]
Review: Pancakes On The Rocks
We didn't know where to eat so we just decided to go to Pancakes On The Rocks since I haven't been before! It was very busy...thank gosh we went early. There were alot of couples but also a group of singles just like us :] Hehe~ Sadly I didn't try any pancakes even though i wanted to because it is Pancakes...On The Rocks but who eats pancakes for dinner anyway..at least i prefer not to.
Atmosphere: 7/10 Very busy...lots of people...it was okay but nothing special...
Design
:
6.5/10
The place has small wooden chairs and tables as well as couches..i'd just like to say the tables are abit too small! It was pretty hard to eat..i felt squished. It'd be perfect for two people but definitely not three or four! The restaurant layout is very homely...and has alot of neutral tones so it's soft on the eyes :]
Food Quality
:
8/10
Yummy! I liked all the food that we ordered...they all had very unique flavours. Need to try more things when i go back~
Food Range
:
7.5/10
More than i expected~ I thought there'd be mostly pancakes but they also had steak, pizza and crepes! Omnomnom~
Service:
7/10
Service wasn't too bad although the guy didn't write down one of our drink orders but then again it was okay because my friend ordered the same drink and it wasn't that good as well as being pricey.
Price
:
6.5/10
Not cheap...but i wouldn't say it was 'expensive'. Prices were above average but portions weren't too small so it wasn't that bad.
Overall
:
7.5/10
Food was good, service wasn't too bad and overall I'd go back to try more things! I really need to try the pancakes...i still need to complain about the fact the tables are too small. TOO SMALL and also unstable. Chairs weren't that comfortable~ :]
4 Hickson Rd
The Rocks, Sydney
Phone: (02) 9247 6371
Sorry guys my computer/over blog is stuffing up so that's why i couldn't put paragraphs in..so sorry! It will be abit hard to read.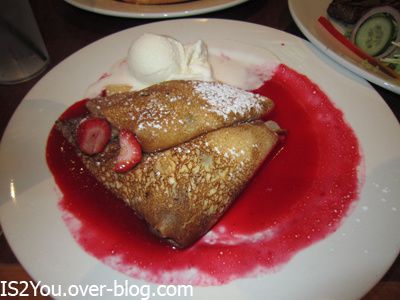 The Ultimate. Crepes filled with cream cheese and sultanas, served with raspberry coulis and vanilla ice cream......... Pancakes' answer to mum's cheesecake! This was unique tasting but i liked it! However i prefer this for dessert rather than for dinner~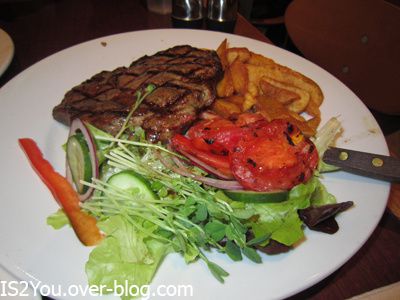 Ribeye Steak. 300g Ribeye steak chargrilled to your liking. Served with golden potato wedges, grilled tomato and salad. This was also really nice! I loved the wedges :D
Tandoori Chicken Pizza. Tender pieces of chicken breast marinated tandoori style. With spanish onions, cashew nuts and mozzarella cheese, topped with mango chutney, minted yoghurt and more cashew nuts. This was also really unique tasting. I don't know how to describe it...since the mango chutney made the whole pizza sweet but it wasn't bad.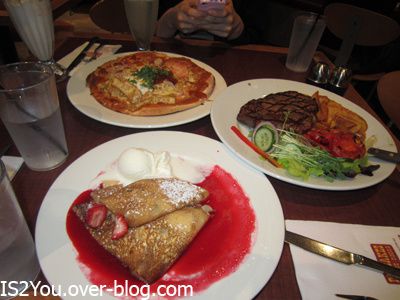 Yum! :D
Riame xx