Hello~
I'll be doing quick reviews on
two pimple creams (Benzac AC and Clearasil Pimple Clearing
Cream)
Review Day 11: Pimple Cream
Clearasil Pimple Clearing Cream in Vanishing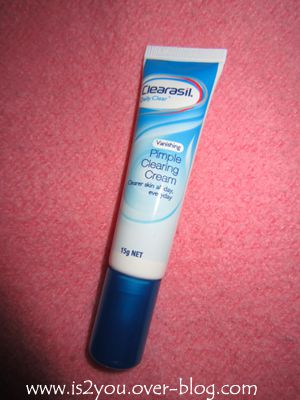 Overall: 6/10 This cream was not as effective as i thought
it would be. It did help decrease my pimples but
ever so slowly, i think this cream would be good for those
with not alot of pimples but overall i wouldn't recommend
this to anyone. I've also heard it dries up your skin but since
my nose area is usually oily, this didn't apply to me.
Benzac AC 2.5%
(2.5% AND 5% is for the beginner users, if you
have very bad acne/pimples then 10% would
be better for you)
Overall: 9/10 I bought this shortly after my Clearasil
cream because my friend had recommended this.
It is simply amazing. I was astonished by the fast results
after just one application. This gel helps suck up the
unwanted oil in your skin, leaving it smooth and creating a
sort of matte effect. My pimples decreased after just one
application and within several days, they were gone! You
have to apply it regularly for good results. Only reason why
i didn't give it 10/10 was because it couldn't prevent some
of those super nasty pimples. Other than that, this product
is definitely worth buying.
Both can be bought from the pharmacy/chemist and you don't
need a prescription for Benzac AC.
Riame xx