Hi guys!
Uni has been so hectic...I've changed subjects three times already! Hopefully i can catch up on the work....>_<'' I have some photos from a long time ago that i never got round to posting...quite alot actually so i'll slowly be making posts for those...including this one at Sea Change Cafe. Enjoy! :] Eating breakfast outside right next to the beach is heaven...makes me actually look forward to getting up however it ended up becoming brunch :P
Review:
Sea Change Cafe Dee Why
*Taken from google
It was really funny because Sea Change was taking all the business from the cafe next door...it had hardly any business while Sea Change was PACKED. So many people having brunch! The view wasn't that great because so many people were in the cafe so we couldn't enjoy a relaxing morning of peace and quiet next to the beach.
Atmosphere:
7/10
It's ok if you like lots of people talking and waiters frequently rushing past you to serve people. Not a very good place to relax and have a private conversation but rather for a group of people to make as much noise as possible.
Design
:
6/10
Simple and cute. The place isn't very big as you can see in the photo above. It's very Aussie...in my opinion...i mean look at the walls. Hahah~
Food Quality
:
9/10
The food was VERY good. YUM! I'm drooling just talking about it. They also give you big proportions depending on what you order.
Food Range
:
7.5/10
Quite a wide range for breakfast. People are bound to find something they like. There's also lots of interesting 'Local Favourites' dishes that I've never tried before.
Service:
7.5/10
Waiters were nice but sometimes it took more than one call to make them come over since the cafe was so busy. Food came out abit slowly but that wasn't too bad because it tasted great :D
Price
:
5.5/10
One thing i don't like about eating at Western cafes/restaurants is the fact that it is so PRICEY. WHY. Asians like me prefer everything under $10 D: Of course that price now is very rare but $17+ really hurts my heart...and budget.
Overall
:
8/10
Good place to have breakfast with my friends and when i have money. I'd definitely go again and hopefully it won't be as busy as last time so i can enjoy the view abit more.
SeaChange Cafe
3/20 The Strand
Dee Why NSW 2109
Phone: (02) 9971 9692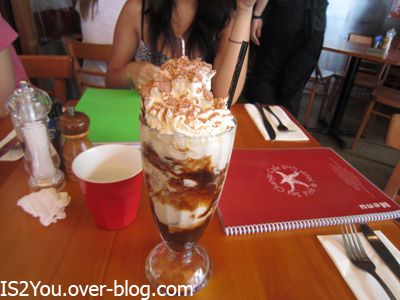 Iced Chocolate! It was ok...not worth the price though..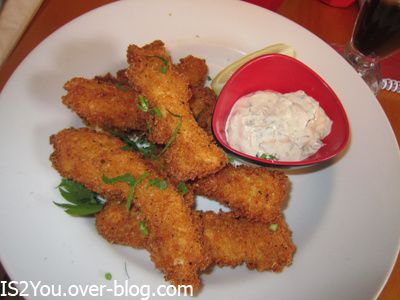 Giant Salt pepper squid with mint yogurt sauce. YUMMY. I order this and it was amazing.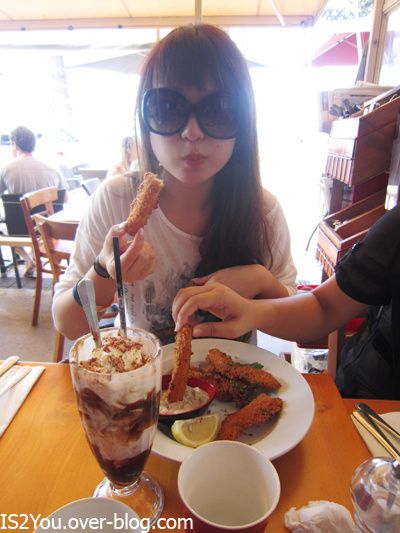 Heheh happily munching away~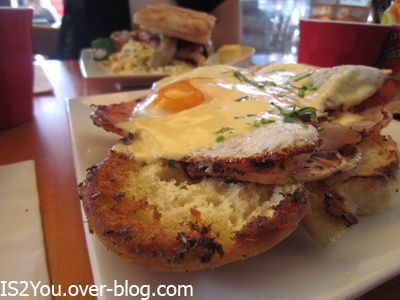 Dee Why Sunrise Smoked Bacon Benedict~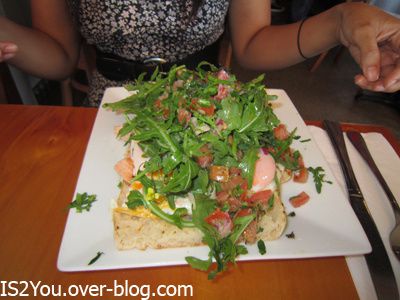 Californian which is grilled salmon, potato rosti, eggs, rocket and tomato toss on toasted turkish..this was really big!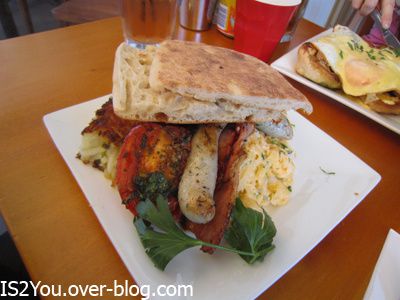 The Local which is chicken sausage, tomato, potato rosti, eggs and bacon on toasted turkish.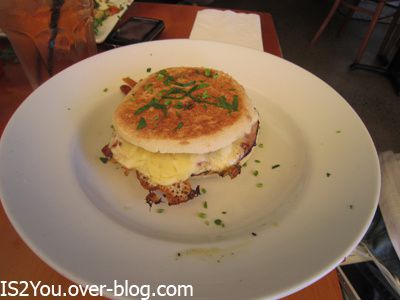 Ham and swiss cheese toasted muffin.
Riame xx