Stylenanda 3CE Lipsticks in 204 and 501
Hey guys! Finally i have a day where i'm at home so i'll be posting a review! Yay!! :D It's been so windy here and the weather is kind of killing me. Yesterday i nearly choked to death from all the dust that got blown into my eyes and throat. Really not enjoying the Spring weather at the moment.
Review: Stylenanda 3 Concept Eyes Lipsticks in Bella and Come to Me
*All photos are from Stylenanda and not owned or taken by me.
Links:
-
-
-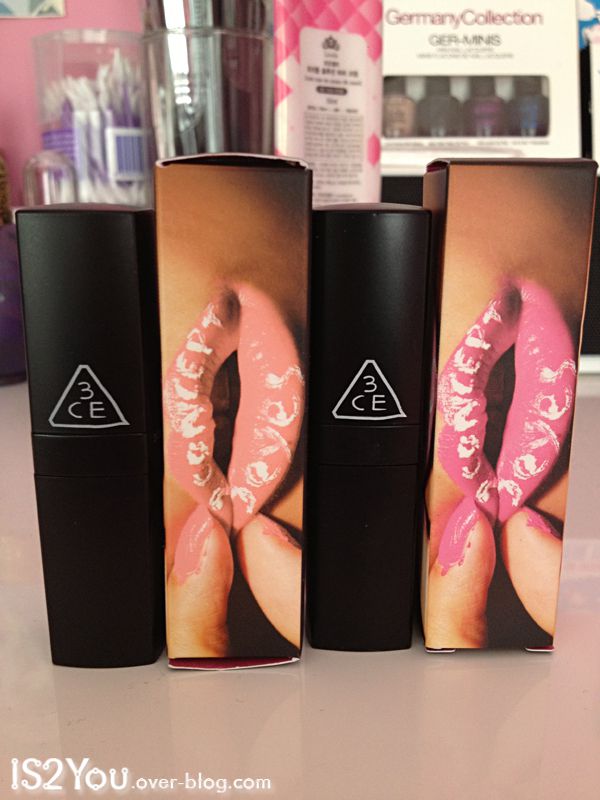 Good Part:
♥ Quite moisturising (just not dry)
♥ Smooth texture
♥ Very pigmented
♡ Not that long lasting but actually not too bad
♡ Pricey
♡ Can look blotchy if unevenly applied/dry lips
-
Cute packaging! Very simple on the inside though which i like. The cases are a matte black.
-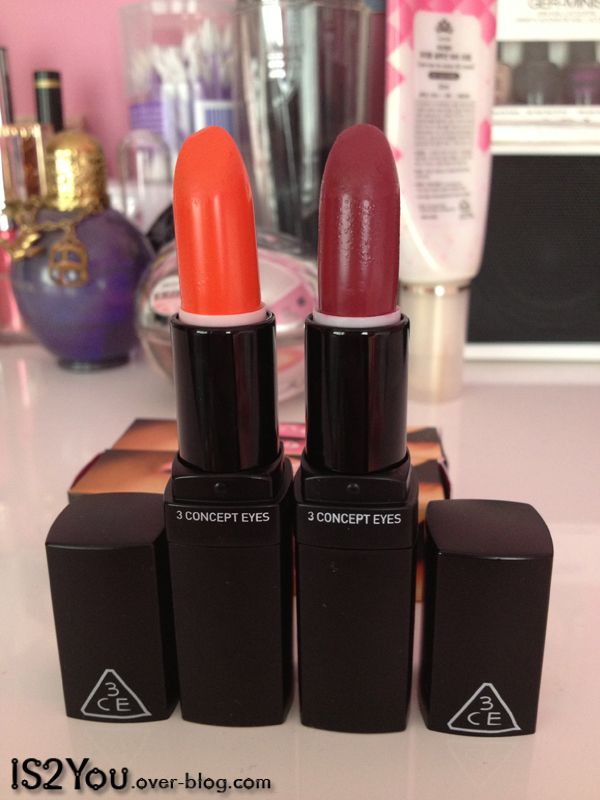 I don't know why Bella has gross looking dots on the lipstick but i think the formula was just not smooth when they made it. It doesn't affect the lipstick but it's just abit ugly. Come to Me is a bright orange while Bella is like a burgundy red colour. It's actually not as dark as it looks on the lips though.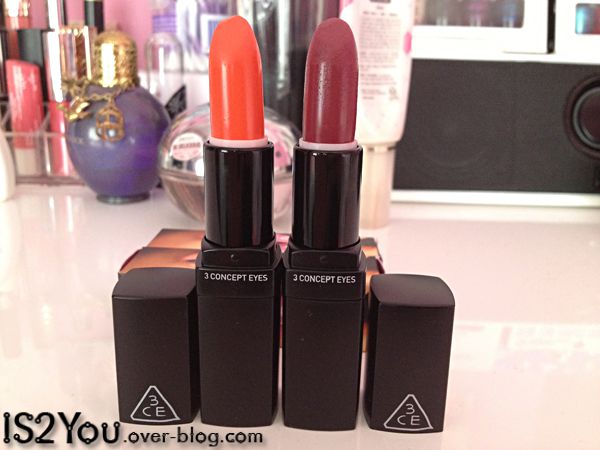 A further away shot.
-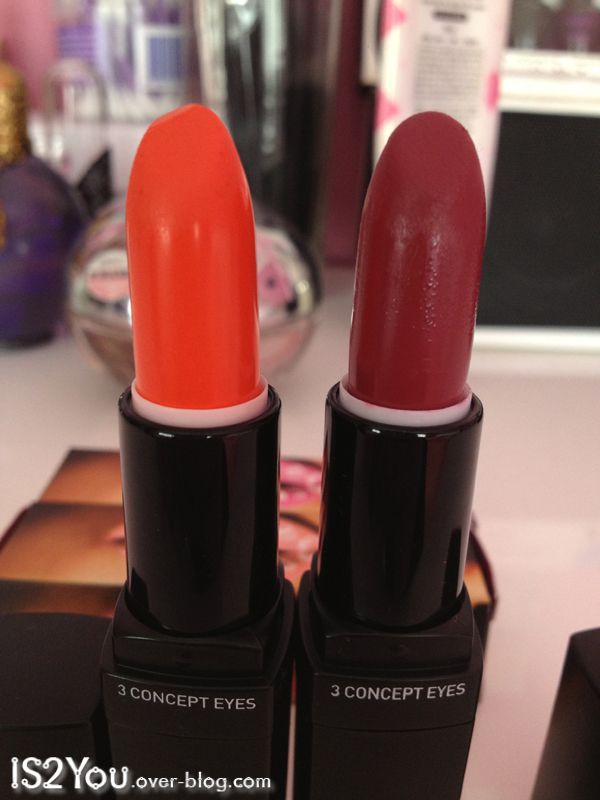 and then a close up.
-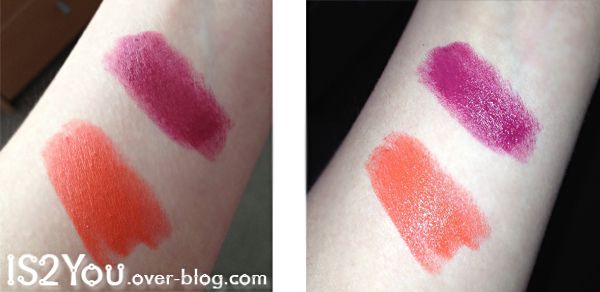 Left is without flash and right is with flash.
-

The colour actually looks more orange than the lips photo as shown above on my hand and below. Not sure why it turned out as a red-ish orange above though.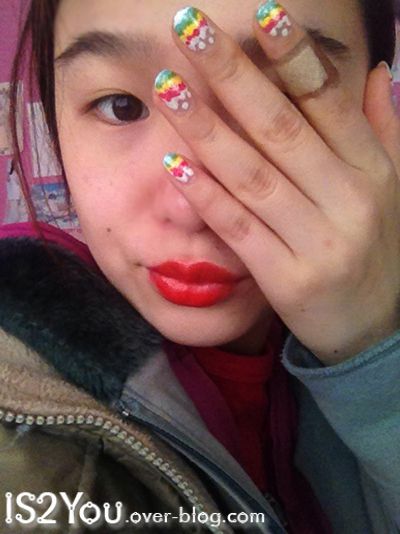 I looked really gross without makeup hence i covered my face but i just wanted to show you guys the color on my lips, it's actually really orange compared to the lip photos i took.

The colour isn't as dark on the lips as seen above and below however it isn't as pink as the one with flash portrays. The photo below is its true colour though.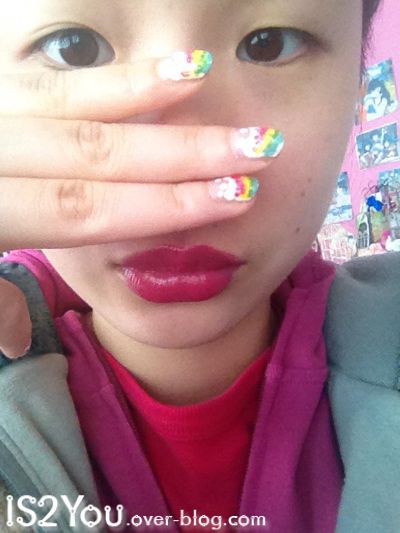 Again i looked really gross without makeup but i wanted to show you guys the colour of the lipstick so i took the photo anyway.
Overall:
-Moisturizing
8/10
♥ ♥ ♥ ♥ It wasn't super moisturising or anything but normal lipsticks aren't supposed to be so it's okay. I was surprised at how smooth it glided on though and it definitely was not drying whatsoever which is a plus.
-Colour
10/10
♥ ♥ ♥ ♥ Extremely pigmented. You only need one coat and your lips look exactly like the lipstick. The pigmentation is so strong that if you do a mistake, it is very noticeable unlike lipsticks such as the Revlon Butter where you can't really tell.
-Long Lasting
7/10
♥ ♥ ♥ It wasn't very long lasting but surprisingly not TOO bad. Normal lipsticks again are not supposed to be long lasting and you have to re-apply after eating/drinking however if you left it on without it being touched, it'd probably go for quite some time.
Overall:
9/10
♥ ♥ ♥ ♥ ♥ Great product! I was definitely recommend it so people who like bright lips. Only bad thing is that it is only available on the Stylenanda website and it's around $19.70 USD which isn't exactly cheap. These colours are more for occasions where you want your lips to pop but i'm pretty sure there are more natural colours of this range. I just love bright lipsticks at the moment :].
Riame xx