Wonderstruck by Taylor Swift
Hi guys! I went shopping with my friends a few weeks ago and we decided to look at perfumes. I'm not really a perfume person since i prefer body sprays. The only other perfume i've ever owned is one by Paris Hilton that my cousin gave me. I guess it's because perfume all smells the same to me in the end. However when i tried Wonderstruck by Taylor Swift...i was in loveeee. I wanted to take a sniff of it because i like Taylor Swift so i thought maybe her perfume would be nice..and i was pleasantly surprised when i took a whiff of it and couldn't stop smelling myself. Literally..i walked around with my friends smelling my hand so i decided...i have to buy it..HAVE TO. I don't know what it is but something about this perfume is just so addictive and somewhat mysterious ;)
Review: Wonderstruck by Taylor Swift
Wonderstruck is an awe-inspiring feeling. It could be a connection with someone or a rush you get when you experience something magical. Wonderstruck is also a lyric in the song "Enchanted" on Taylor's album, Speak Now.
In this fragrance, a charming and sparkling surprise of vibrant fruits kisses a bouquet of soft petals and a touch of sweet indulgence.
The gourmand scent is meant to have a modern feel that's warm and sensual, containing a vanilla note that runs throughout. Wonderstruck also includes top notes of green tea, freesia, apple blossom, dewberry and raspberry; middle notes of honeysuckle, hibiscus and Hawaiian blanket; and bottom notes of peach, musk and sandalwood.
A perfectly charmed deep purple bottle holds this enchanting fragrance. The iridescent rainbow finish, never before used in the fragrance industry, gives the bottle a magical glow. The Moravian star, dove, and birdcage charms that adorn the bottle were hand-picked by Taylor to evoke her unique style and whimsical flair.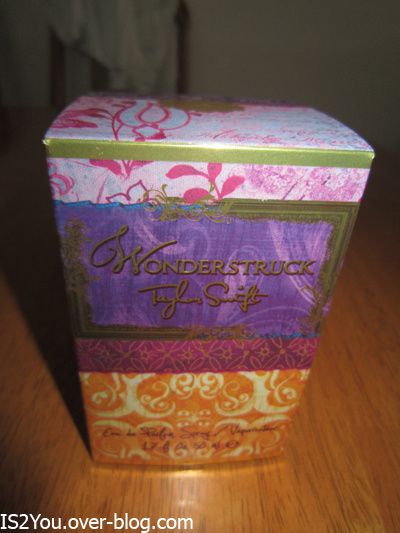 I love the packaging for this! Still haven't thrown it out yet hehe :3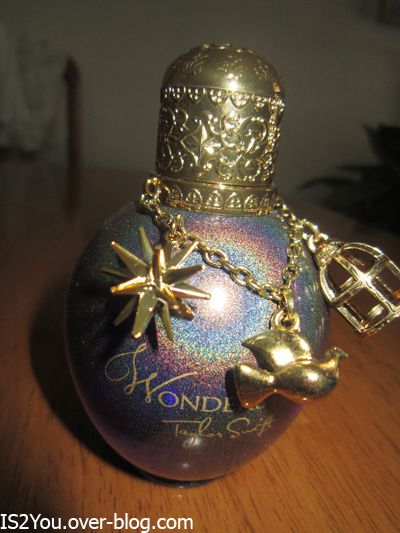 The bottle looks amazing with flash as you can see...the rainbow finish really does make the bottle look magical~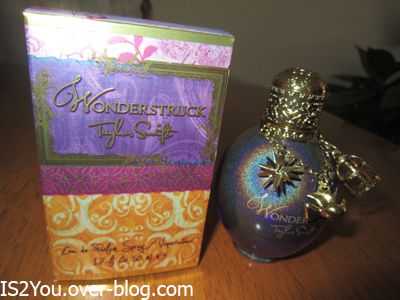 Overall: 9/10 I love this perfume! The smell is amazing and very addictive. It's very sweet smelling so that's why it attracted me...i love sweet smelling body sprays like vanilla or cotton candy. The smell reminds me of a teenager if that makes any sense, i'm not sure why but it makes me feel young. It's somewhat mysterious because the mixture of the fragrances make the ingredients hard to distinguish. The bad point is that it doesn't last very long...longer then body sprays but less than your average perfume. The smell is subtle which i like but if it lasted longer..i'd definitely give it a higher rating.
Riame xx