Wood & Stone Wood Fired Pizza Manly
Food Review: Wood & Stone Wood Fired Pizza Manly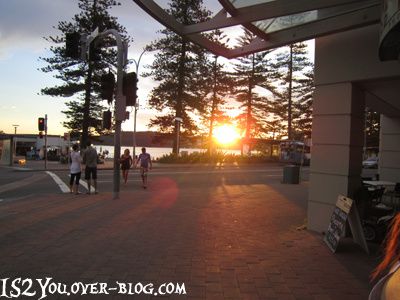 Outside view of the restaurant and pretty sunset.
It's similar to GPK (Gourmet Pizza Kitchen) however personally i think it's better.
Atmosphere: 8/10 Quite a relaxing environment with the cool air from the beach occasionally blowing in. Small groups of friends and family are usually chatting loudly and overall the atmosphere is nice and perfect for a more down to earth dinner
Design: 6/10 The restaurant isn't very fancy and is quite simple with wooden tables and chairs and an open bar. However if you get a seat close to outside, the view is nice.
Food Quality: 8.5/10 Normal sized pizzas, not too big or small...just right. Pizzas were yummy and the pasta wasn't too bad either, overall pretty good quality. It also wasn't dry.
Food Range: 7/10 The restaurant serves pastas and pizzas and also appetisers. Although the range is not as large as GPK, it's still decent though you'll have a hard choice choosing since they all sound yummy. Their range of pastas is pretty small which are the common flavours such as carbonara, neapolitana etc. but you get to use your choie of pasta :D
Service: 9/10 Great service, waiters were very attentive and nice and came over immediately whenever needed.
Price: 7.5/10 Prices were decent, pizzas were $19.90 for most of them except the seafood ones.
Overall: 8.5/10 I'd go again maybe after a day at the beach and relax at the restaurant, preferably when it isn't too busy.
Details:
Shop 3 / 54 Belgrave St
Manly, NSW, 2095
02 99771000
Open 7 days 11.30am-late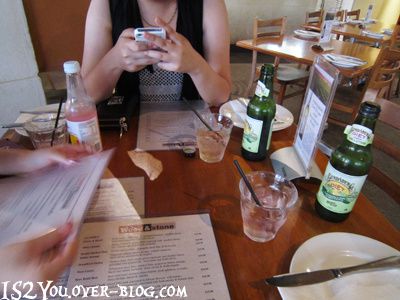 Lemon Lime Bitters...YUM! and Pink Grapefriut~ Tables are quite small~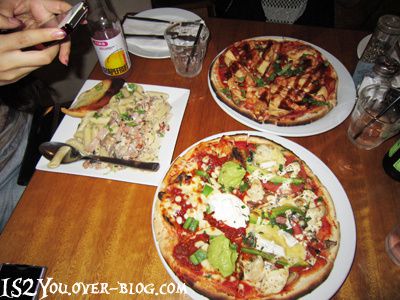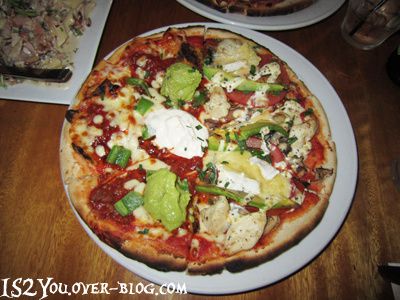 I did half half which is alittle bit more expensive but worth it! One side was Woodfired Nachos which was basically like nachos on top of a pizza base and the other side was Camembert Chicken which chicken and camembert and also this weird type of mustard sauce. Woodfired Nachos was my favourite~! You can't go wrong with guacamole :]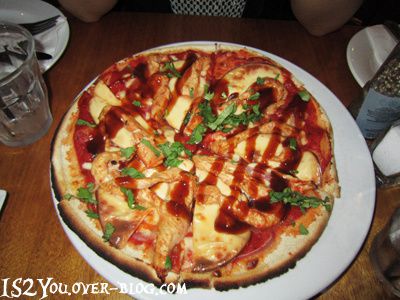 BBQ Chicken! This was yummy and the taste was interesting since the cheese wasn't the normal like of pizza cheese but instead it was something like single cheese? Well...it tasted like that but i'm sure it was some type of gourmet cheese but it was really nice. They also put generous amounts of chicken and bbq sauce which made it delicious.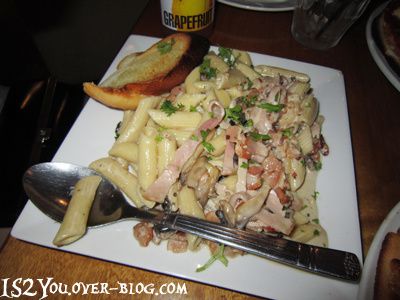 Cabonara sauce with penne pasta~ Not the best but not too bad. It was missing 'oomph' but i enjoyed it nevertheless.
Riame xx