Missha Super Extreme Waterproof Soft Eyeliner
Hi everyone! Today is a gloomy day as the weather looks like it's about to rain but it hasn't yet. No sun...just clouds. I'll be reviewing my Missha eyeliner today! Enjoy :]
Review: Missha Super Extreme Waterproof Soft Eyeliner in Brown and Black
Auto type soft pencil eyeliner to keep eyeline clear all day long against sweat, sebum and water with its powerful super-waterproof effect
Pencil type long lasting eyeliner to keep eye line soft and clear with its powerful water proof effect.
- Smoother and softer texture!
- Super waterproof power against sweat, sebum and water!
- More convenient applicator with built-in sponge tip!
- Economic refillable container!
- Auto type pencil eyeliner which keeps defined eye line all day long!

1) Powerful super-waterproof effect
Containing Silicon oil and Film Polymer ingredients, it keeps your eye makeup clear against sweat, sebum and water while creating thin film on the eye areas.

2) Sleek and silky moisture texture
-Containing Jojoba Seed oil and Avocado oil, it applies smoothly with sleek and silky texture, creating natural eyeline.

3) Moist shea butter ingredient-Containing Shea Butter ingredient extracted from fruit of Shea Tree, it moisturizes and nourishes eyelids and containing BN powder, it adheres well to eyelids.

4) Built-in sponge tip for muli-makeup
- Built-in sponge tip at the bottom of eyeliner, it is available to express natural gradation and sharp eyeline for attractive smokey eye makeup.
Good Part:
♥ Doesn't smudge
♥ Long Lasting
♥ Waterproof
♥ Very soft and smooth texture
♥ Includes sponge tip
Bad Part:
♡ Nothing really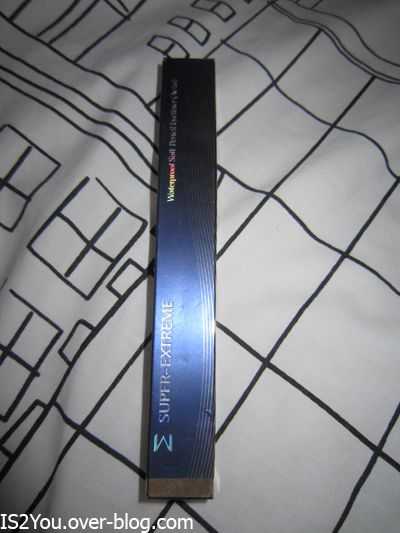 I bought this eyeliner in a hurry since i REALLY needed waterproof eyeliner and i was leaving to go to Incheon airport very soon so i had a super fast grab whatever i could kind of shopping spree. After my disappointing purchase of the Lioele waterproof eyeliner, i was desperate to find an eyeliner that would not smudge and was actually waterproof. THANK GOSH this product did not disappoint me. I was really attached to this eyeliner since it looked different and more attractive than most other eyeliners. I also had a quick sample of it and was thinking hmm...seems quite good so i decided to buy two, black and brown. Maybe i should have gotten khaki too. :P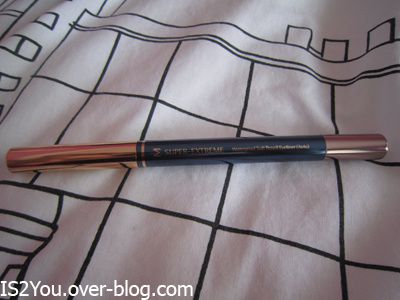 See what i mean by, 'not your average eyeliner design'.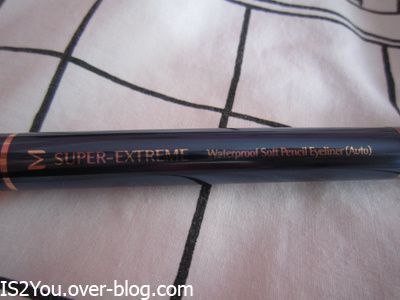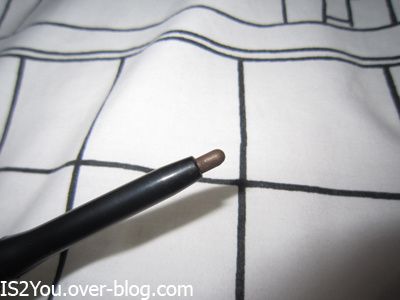 Brown!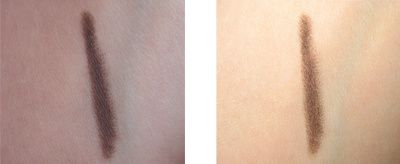 No flash Flash

I made the eyeliner extra thick so it could be visible.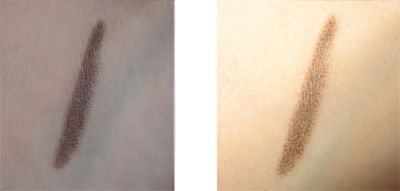 This was after rubbing the eyeliner with water and as you can see, there's not a big difference to the picture above. It's really waterproof after it dries.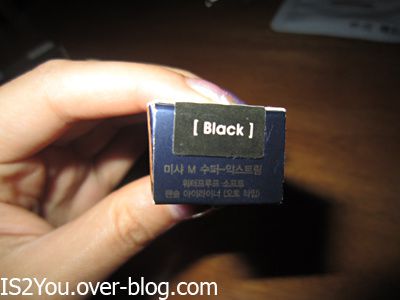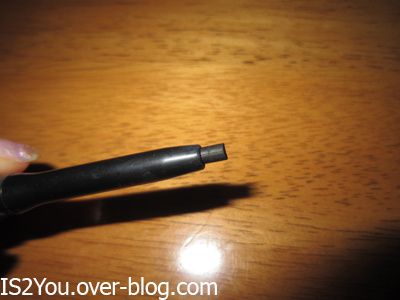 The top part fell off because i pressed it too hard :(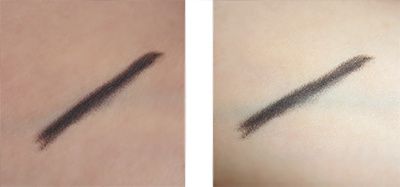 No flash Flash
Overall: 9.5/10
Favourite waterproof eyeliner so far! This product was an amazing buy. I'm so happy i got it from Korea since it was also on special. The eyeliner goes on very smoothly since the texture is soft. It doesn't hurt when i apply it on and isn't dry like my Lioele eyeliner. It also lasts for the whole day so it only starts smudging towards the end of the day. The colour goes on very bold and it can be adjusted depending on how lightly you apply it. The other end of the pencil is a smudge tip so you can blend in the eyeliner if you want to. I've never used brown eyeliner before but i'm starting to love it! I really have to buy more when i run out but i still want to test other eyeliners out :P. Highly recommended!
Riame xx