More Sydney Brunch Places to Try
Hey guys! I did a blog post on 'Sydney Brunch places to try' a few weeks ago but guess what, i have more to review. Soooooo here's another blog post on more Sydney Brunch places to try. You could be on holiday or travelling or even just want some new brunch recommendations to try. Anyways enjoy!
SeaChange Cafe
3/20 The Strand, Dee Why NSW 2099.
This is more of a local cafe right along Dee Why Beach. It's always busy and the food is delicious. I've never had anything bad from this cafe, everytime it has not disappointed. The proportions are also HUGE. However it's definitely on the pricier side. I mean, i think it's one of those cafes that you can't eat every weekend at or your wallet will cry but the food is soo good so you have to try it out at least once. I recommend eating the warm salads (you can share between two since the size is ginormous). The warm salads consist of ALOT of seafood/meat and a few greens here and there :P. The local favourites are definitely worth a try too. Customer service is not bad.
Rating:
Food ♥♥♥♥ 9/10
Price ♥♥♥ 5.5/10
Service ♥♥♥ 6.5/10
Ambience ♥♥♥ 6.5/10
Overall ♥♥♥♥ 7.5/10
KIN by us
1a/2 Saunders Cl, Macquarie Park NSW 2113
This is a quite new cafe that opened by Uel and Shannelle (My Kitchen Rules). It has really cute interior and waiters ;). The food is affordable however proportions are a little on the small side so I'd recommend getting 3 dishes between 2 people. When i went, the atmosphere is really calming and not too busy/loud which i definitely liked. The food was really good and it felt light and refreshing. All the dishes have an asian theme going on and you can check out the blackboard for daily specials. The food is very instagramable and presentation is A+. Make sure to check this cute little cafe out. You won't be disappointed with the eye candy waiters.
Rating:
Food ♥♥♥♥ 8/10
Price ♥♥♥♥ 8/10
Service ♥♥♥♥ 8.5/10
Ambience ♥♥♥♥ 8/10
Overall ♥♥♥♥♥ 8.5/10
The Potting Shed
41 Bourke Rd, Alexandria NSW 2015
The Potting Shed is right next to The Grounds of Alexandria but the interior looks like the inside of a greenhouse rather than a normal cafe. There was mist being sprayed everywhere, a rainbow parrot (their pet), plants and vines all over the cafe. It's definitely different and i loved it. Even the food was served on brown pot plant plates, shovels or anything to do with gardening and it was so earthy and unique. You definitely have to come to see what i mean. Customer service was not bad, they were all pretty young and kinda hipster. The food was unique and YUM YUM YUM. I loved it soooo much. Omg the food, delicious and so different and amazing. Sadly it took a really long time to come out. We were waiting for ages so that was the downside. Prices were not too bad, definitely on the pricier side but we got sea bugs (their weekly special) for an amazing price. I think it was $14 for 2 and usually they are so much more expensive since they're like mini lobsters. Go at least once if the wait is a turnoff, the food is definitely worth it.
Rating:
Food ♥♥♥♥♥ 9.5/10
Price ♥♥♥♥ 6.5/10
Service ♥♥♥♥♥ 6.5/10
Ambience ♥♥♥♥ 8/10
Overall ♥♥♥♥♥ 8.5/10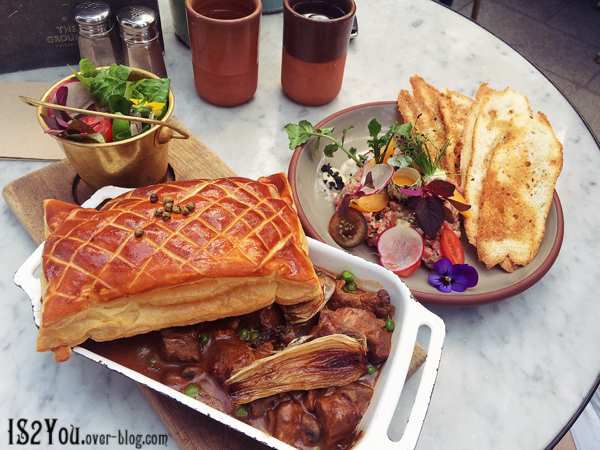 I didn't take a photo of the sea bugs but if they have it, PLEASE TRY IT. Beef Tartare and steak and mushroom pie (deconstructed)
Boscage
15/425 Bourke St, Sydney NSW 2010.
This took forever to find because their cafe didn't have any signs! It's in between Woolworths and Lumiere cafe so hopefully you guys can find it. When we went, it was really quiet since it had already passed lunch time and we went on a weekday. The interior was pretty nice, the kitchen was open and they have a huge collection of wines on the wall. I heard alot of good reviews about this cafe so i really wanted to come. The service was alright, not bad (i say that for most of the cafes unless they made a big impression on me). The food however was disappointing. There was only one other family inside so I don't know why the food was not on point. Everything was really salty. The chef must have dropped the salt shaker or something. The mushroom and pork in my dish was so salty and i kept drinking my lychee shake. My partner's dish was also really salty (apart from the scotch egg which was pretty good). But his dish was covered in salty beans and the bread underneath soaked up all the saltiness and it was just.... salt on a plate. Price was okay and I don't think i'd return BUT maybe they just had a bad day. All the other reviews i read were positive so i don't know why our dishes were salt galore.
Rating:
Food ♥♥♥ 6/10
Price ♥♥♥♥ 7.5/10
Service ♥♥♥♥ 7/10
Ambience ♥♥♥♥ 7/10
Overall ♥♥♥ 6.5/10